Create A Great Elevator Speech



And Attract Life Coaching Clients
Page Summary
An Elevator Speech should define who you are and what you do for your potential coaching clients.  This page will show you how to create a simple speech as a life coach that will make you stand out from the crowd.

What Is An Elevator Speech?
An elevator speech is simply a shortcut explanation that defines your service and captures the interest of the person or people you are are addressing.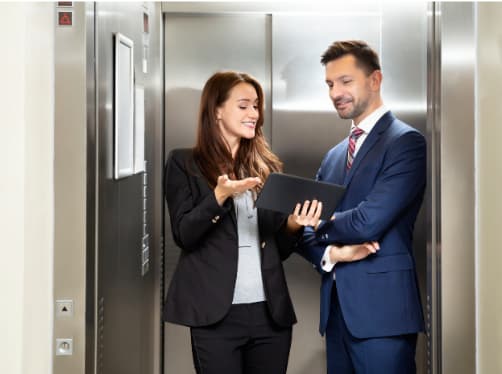 You aren't necessarily delivering it in an elevator or a lift but it needs to be able to be delivered in little more than 30 seconds - the time you might have to introduce yourself in an elevator.
A great elevator speech is a simple life coach speech that summarises your services and how you help, quickly, without fluff or too much information and in a way that arouses the interest of potential clients in your audience
Selling yourself in quick bites of words in 30 seconds can be a challenge.
So many times I've sat at a networking breakfast or lunch nervously awaiting my turn to stand up and take advantage of that tiny 30 second window of opportunity to market my coaching! And afterwards, feeling sheepish that I didn't get my message across quite as I intended.
Well, help is at hand with .... 
A Dynamic Elevator Speech Template That Works
My colleague Cindy Schulson from Marketing From Within is a whiz at creating a really personal, compelling elevator speech and if you want personal help I can confidently recommend her work and her free brand message template.

Cindy explains that only way you're going to be heard and understood in that brief time-frame, is if you can create an elevator pitch that tells:

Who you help (your niche or specialty)

What solution you provide
The outcome you help your clients achieve
why they should work with you.
 A Life Coach Speech Example To Learn From
Here is a typical example of an elevator speech that a new life coach might use:
"I'm a life coach and I help people get more out of life. Let me give you some information about my services and about life coaching so you can learn more."
Do you think this will work as a life coach speech example to engage people? Chances are it won't, and here's why
The focus of this approach is on services, titles, and processes. Your potential clients aren't interested in these things. They don't care about your industry or how you run your business. What they care about is how you are going to help them.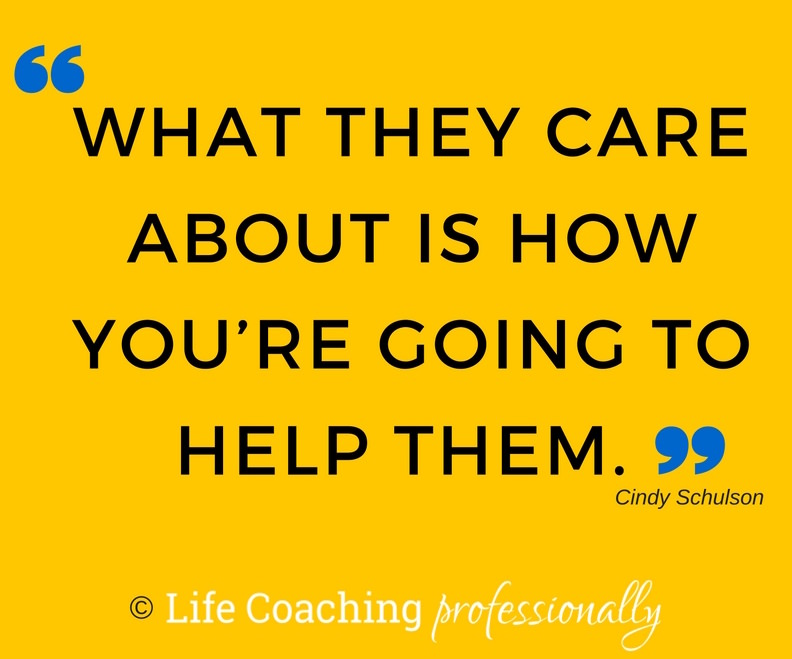 This means that, even if you're an amazing coach, people aren't interested in buying your coaching. What they want to buy are solutions and results for the particular challenges they have.

So here's an example that would work much better to engage and attract your ideal potential client.
"I coach/help mothers who have been at home raising a family have the confidence to re-define their careers and re-enter the workforce. If this is you I'd love to chat."
or
"I coach/help people who want to start their own business get clear on their direction and put a workable plan in place towards a profitable and rewarding future. If this is you I'd love to chat".
Get the picture!
Of course, if you are a generalist life coach, as I was,  you can create an elevator speech to match your current audience. I found "I help people get from where they are to where they want to be by helping them choose, set and achieve powerful goals" can also work really well.
Elevator speech Do's and Don'ts

Cindy has loads of do's and dont's but I'd like to finish by indulging in a few of my own pet peeves from years of attending networking functions and being on the receiving end of elevator pitches. Use these tips, where appropriate,whether you are literally delivering your message in a lift, a one-one meeting, in a public group or even in a queue at the airport checkin.

Do keep to time

If the networking function host asks everyone to give a brief 30 second second introduction, don't go rambling on with lots of detail. It's not fair on the other networkers, and can throw the schedule out for the meal and the main speaker.
Don't be pushy
This is not the time to launch into a full sales pitch without pausing for breath. This can be a real turnoff. The elevator speech should be an engaging taster of  who you are and what you offer. Let people ask if they want to know more. 

Do reciprocate
When you've given your elevator speech one-on-one, and answered any further inquiries, remember to show interest in the other person. Ask what they do - you never know there could be an opportunity for an alliance. Successful networking is a two-way street. It's not just a chance to promote yourself and move on.  
Click the image to explore and purchase my books

Books by Wendy Buckingham
Do You Have A Great Elevator Speech Tip?
Creating a great elevator speech is often about trial and error. So please share your experiences and suggestions and assist other life coaches wanting to learn how to sell themselves.
What Other Visitors Have Said
Click below to see contributions from other visitors to this page...