Create A Great Elevator Speech



To Attract Life Coaching Clients
Creating a great elevator speech that defines who you are and what you do for your potential life coaching clients will make you stand out from the crowd. Learn here how it's done 
What Is An Elevator Speech?
An elevator speech is simply a shortcut explanation that defines your service and captures the interest of the person or people you are are addressing.  You aren't necessarily delivering it in an elevator or a lift!
This is simply a short hand way of explaining that a great elevator speech needs to be able to summarises your services and how you help, quickly, without fluff and in a way that arouses the interest of your audience
How to create a great elevator speech for life coaches
As you may already know, selling yourself in quick bites of words for 30 or 60 seconds can be difficult .
I can't tell you how many times I've sat at a networking breakfast or lunch nervously awaiting my turn to stand up and take advantage of that tiny window of opportunity to market my coaching! And afterwards, feeling sheepish that I didn't get my message across quite as I intended.
Well, help is at hand. 
My colleague Cindy Schulson from Marketing From Within is a whiz at creating a really personal, compelling elevator speech and if you want personal help I completely recommend her work.
I can highly recommend Cindy's free webinar. You can join her next class right here.  In it, she provides you with some powerful secrets to demystifying branding and taking advantage of your own unique brand of one!

Cindy helps you to get down to the essentials of what you need to say in your magnetic message which you can use as an elevator speech in a respectful way that will effectively engage. (And she also has lots of other invaluable free stuff on her website)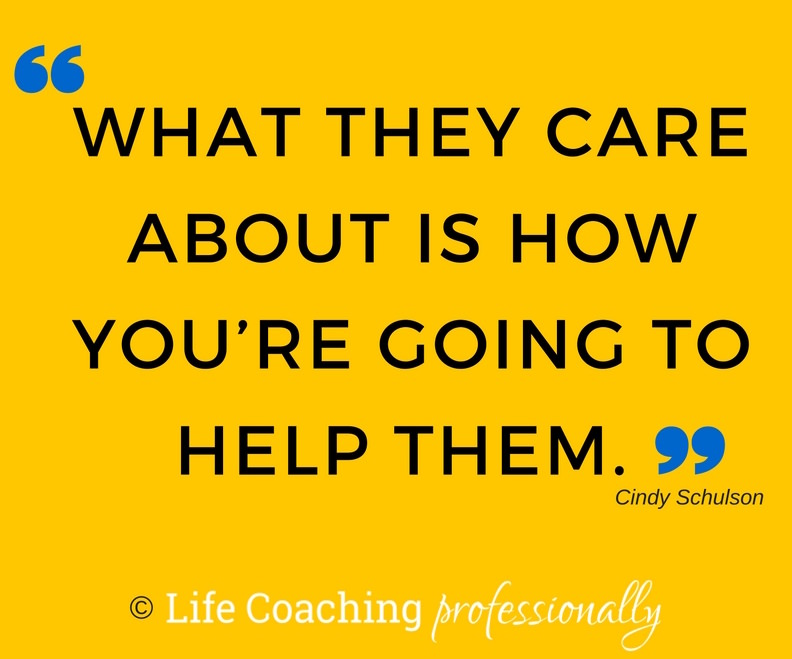 Why this elevator speech example is wrong
Cindy has provided me with a common, typical example that a life coach might use:
"I'm a life coach and I help people get more out of life. Let me give you some information about my services and about life coaching so you can learn more."
Do you think this will work? Chances are it won't, and here's why
The focus of this approach is on services, titles, and processes. Your potential clients aren't interested in these things. They don't care about your industry or how you run your business.
As Cindy says: "What they care about is how you're going to help them". 
This means that, even if you're an amazing coach, people aren't interested in buying your coaching. What they want to buy are solutions and results for the particular challenges they have.
Dynamic elevator speech template that works
So if you're going to help the people you're meant to coach and want to coach, then you need to first be HEARD!

And the only way you're going to be heard and understood is if you can create an elevator pitch that explains:
Who you help (your niche or specialty)

What solution you provide
The outcome you help your clients achieve
why they should work with you.
And this is where you may need help getting clear on what to say. Discover more with Cindy's Dynamic elevator speech template.
Elevator speech Do's and Don'ts

Cindy has loads of do's and don'ts on the subject but I'd like to finish by indulging in a few of my own pet peeves from years of attending networking functions and being on the receiving end of elevator pitches. Use these tips whether you are literally delivering your message in a lift, a one-one meeting or in a public group.

Do keep to time

If the networking function host asks everyone to give a brief 30 seconds to 60 second introduction, don't go rambling on. It's not fair on the other networkers, and can throw the schedule out for the meal and the main speaker.
Don't be pushy
This is not the time to launch into a full sales pitch without pausing for breath. The elevator speech is a taster of what you offer. If people want to know more they'll ask. 

Do reciprocate
When you've given your speech one-on-one, and answered any further inquiry, don't forget to show interest in the other person and what they do. Networking is a two-way street, not just a chance to promote yourself and move on.
Once created, your great elevator speech can also be incorporated into brochures or business cards or anywhere you need to get your message across. You'll find more hints on networking in How to Network  and easy ideas on marketing your coaching see  12 Proven Simple Marketing Ideas For A Coach.
Do You Have A Great Elevator Speech Tip?
Creating a great elevator speech is often about trial and error. So please share your experiences and suggestions and assist other life coaches wanting to learn how to sell themselves.
What Other Visitors Have Said
Click below to see contributions from other visitors to this page...