How NOT To Get Coaching Clients - Expensive Traps To Avoid
It seems a life coach only has to murmur  "I need some help to get coaching clients" and they are inundated with offers of marketing help – at a price.  This page will help you steer safely through the minefield of getting the right coach marketing help by asking six powerful questions.

This article has come about because of the sad tales I hear from coaches, just starting out and experienced, who realise too late that they have spent a fortune on engaging a "coach marketing strategist" to teach them how to get coaching clients.

 But they are not getting the results they have been promised.
They may have been told they must develop a "sales funnel",  which is the latest marketing buzz word for a strategy for attracting and qualifying leads and converting those interested into clients.
However, attracting quality clients is a much deeper issue than just setting up a marketing funnel.
Filtering out the self proclaimed experts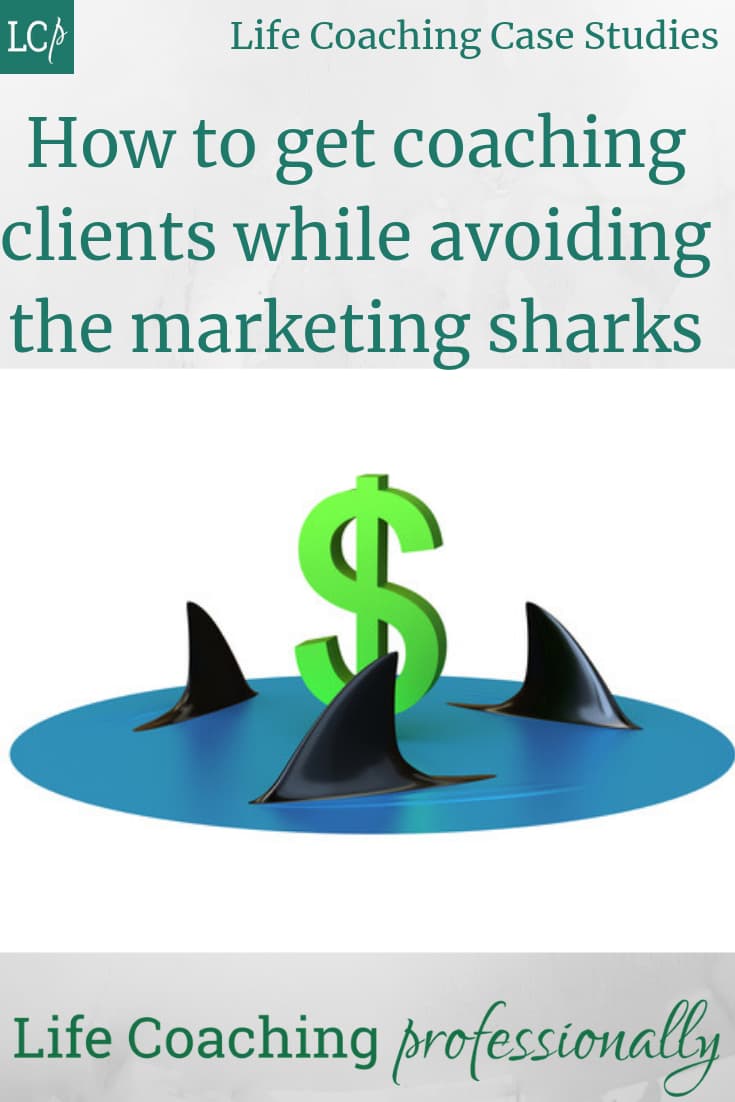 In many instances the fashionable word "coach" has just been adopted - even hijacked - by many marketing strategists who know zilch about coaching. 
I recently came across, a case where a new coach was sold a service by someone with 25 years corporate marketing experience.  Although the person may have been brilliant in the corporate world this did not equate with working with a self-employed new coach who needed to know how to get clients.

The trouble is that many of these well meaning marketing experts come from a big business background and do not understand the needs of a solo business person such as a coach or the coaching genre.
They have learned a big business sales strategy that they sometimes believe will translate to getting coaching clients.
I hastily add that there are many excellent experienced coaches and market consultants who specialise in showing you how to get coaching clients and will effectively "coach" rather than consult with you to find your best way of marketing and hold your hand through the process.
So, how do you find credible help for your marketing and make sure you are not being taken in by a someone who doesn't really understand what you need or the coaching profession?
A Book To Help You Find Your Best Marketing Method
A newly published book I can highly recommend to help you work out your marketing strategy is How To Win and Keep Clients. 

The thing I liked about this book is that it is written by coaches for coaches and has a holistic approach to the subject.  So many books on getting clients are written by marketing consultants who really have no idea about what coaching is and how it needs to be marketed or the different approaches you can explore to find the one that works for you.

Each chapter by a qualified and experienced coach, who may have other experience to bring to the table such as law, HR, social work and sales, presents a different aspect to the ways of getting clients from the very practical with charts, exercises and case studies to the spiritual and law of attraction. All aimed at finding the best path for the individual coach to follow without being too prescriptive.
The book is like have a mentor to help you get clients on your book shelf.


I bought the online Kindle version but would recommend the paperback as this is a book you will want to dip in and out of highlight and scribble your own notes.
Six Questions To Ask Before Engaging A Marketing Expert To Get Coaching Clients
These questions will serve a checklist for yourself to make sure you haven't been swept away by a great sales pitch yourself!  They are also powerful marketing questions to ask you potential "coach".

1. Where did you get your knowledge about the coaching profession?

 And have you worked with many coaches?
This will let you know whether or not they really understand what coaching is. 


2. Do you guarantee results?

If they do, find out what the conditions of that guarantee are (in writing).
Ask yourself honestly if those conditions are realistic for you given your available time and what you feel you are capable of.
  For instance, if one of the conditions is that you made a certain number of calls, or give so many presentations, is that going to work for you.  There may be many reasons why it may not and now is the time to be honest with yourself about what you can contribute to your own marketing.
3. If I don't get the results you are promising, is there a refund?

And if so, ask whether there are any conditions for refunds that you need to know about. Even the best relationships should have exit clauses.

4.
Can I pay by instalments?
If the answer is yes, you may be wiser to choose this option even if it cost a bit more.  Then, if you discover that the marketing program you have invested in is not what you need, at least you can just opt out of the program. This is why Q3 is so important.
I recently mentored an experienced coach wanting to invigorate her practice. She had asked for a refund when she realised that the ex corporate marketer she employed was an expensive  waste of time when it came to getting coaching clients.  She was able to salvage most of her investment.
However you approach payment, make sure you don't sign a contract that binds you to the full amount and preferably, pay by direct deposit rather than give your credit card details.
5. What will be your marketing strategy for me as a coach?
If they say they have a system, ask about that system – what does involves and evaluate whether you feel comfortable or whether it could cause you stress. For instance, does the system involve cold calling or something that freaks you out, or does it offer a variety of alternative strategies?  
Also, ask whether they coach you through the process or just tell you what to do. There is a big difference.

6. Ask to speak to people who have used them to help find clients.
This can be a tricky question as obviously they are not going to put you in touch with coaches who did not achieve results.  But it will give you a chance to see what they come up with and what sort of marketing coach they are.

Alternative resources for getting coaching clients
Look at these Easy and Affordable Ways to Market Your Coaching.  One or more of them may be something you are drawn to and, if you felt you need it, engage a coach who is an expert on that particular strategy.  For example if you would really like to give talks, engage a public  speaking coach.
I have received many thanks from coaches for recommending Cindy Schulson's Marketing with Heart Mentoring Program. She is someone who has load of integrity and really understands what coaches need to do to attract clients and get their marketing message across. She has some excellent trainings as well as many free templates to help with your marketing and has been a part of Life Coaching Professionally for nearly 8 years.