10 Tips For Choosing The Best Life Coaching Certification Program For You

It can be a challenge to find the best life coaching certification program for you - one that will deliver what you specifically need professionally. So get it right by asking these questions BEFORE you enrol.

When researching, keep in mind that, unlike the independent information on this site, many guides to finding the best life coach certification programs that come up on a Google search are in fact compiled as a marketing tool by a particular coaching school. 
The objective is to convince you that what they offer is what you need. So keep an open mind! Also be sure to read the useful comments from other coaches at the foot of the page and add your own.
---
10 Key Things To Know And Ask
To Find Your Best Life Coaching Certification Program
1. How well qualified are the life coach trainers?

Is the head trainer of the school an experienced, qualified, life coach with a credential from an independent coaching industry association.
Where did they train and what actual coaching experience do they have?

The rest of the instructors need the same scrutiny: 
What qualifications and experience do they have?
How long have they been out in the field coaching?
Do they hold a credential from an independent coaching association?
2. Is the course accredited with an independent coaching association?
Be aware that it is the specific life coaching course, not the life coaching school that is accredited. One certification training on offer may be accredited, another may not. So it's worth checking out the course with the independent association the school tells you it is accredited with.  You can read about some of the  associations that provide accreditation.

3. Does the school offer online life coaching certification?

You may not find it convenient to travel to face to face life coaching classes so ask if the school provides remote training.  By this I mean tuition online by telephone, email or Skype conference calls.
When if comes to online life coach certification be especially careful and ask lots of questions and get references from past students.
There are some excellent coaching schools offering distance learning (I did all my training with Coach U this way).  However, it is very easy to make a school look good on a website but the certification offered may not be that valid in the professional coaching world. 

4.  What coaching tools are provided for your use?
Ask what coaching aids such as scripts for processes the school provides with the course. 

More than once I have been contacted by a student of a life coaching school and asked if I would share with them some of my coaching materials and guidelines that lead to success.

Apparently the instructors had set this task for them as part of their training.  In my opinion, that's lazy teaching and not good enough!

The best life coaching certification programs should include a full range of materials from coaching processes to business building strategies and templates.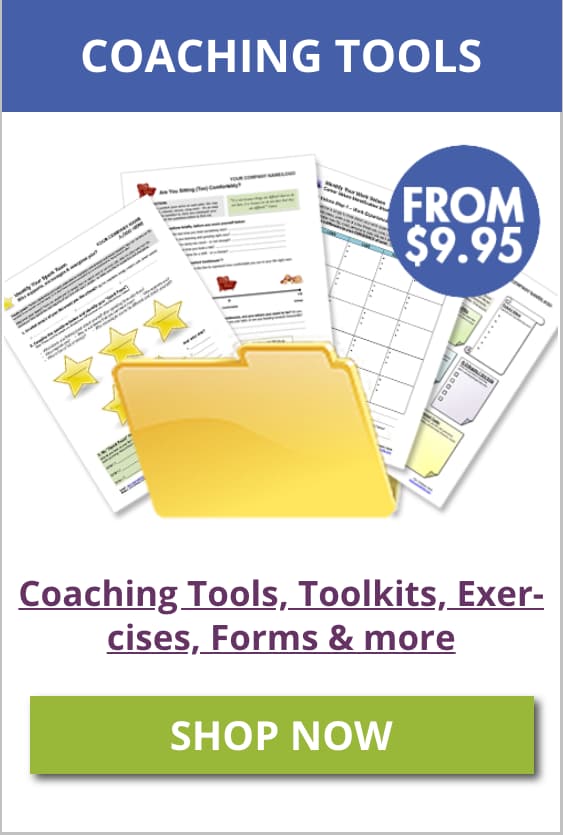 If you are after tools to use in your new coaching practice, then have a look at those created by my colleague Emma Louise at the Coaching Tools Company.
In particular, when you are just starting out the Welcome Pack has all the tools, forms and templates you need to get started with new clients including a sample Coaching Agreement and lots of guidelines and checklists to help you run those early sessions
As well as the Welcome Pack, which you can personally adapt and brand for your coaching practice The Coaching Tools Company has templates and forms for everything from helpful aids for Life, Career, business and Time Management.
If you don't want the full kits, many of them can be purchased separately and some are even free.
5. Do they advise and help on building your life coaching practice?

And if so specifically how? Is there a specific module on the subject?

The best life coaching certification programs invariably include modules that will help yo with the business side of building your coaching practice.  Soask if there are aids to help a coach get started such as templates for agreements, invoices, evaluations, marketing materials etc? 
There are now several software programs available for the business building side of coaching, but they are expensive, so before you invest check out what is included. 

And this book Four Steps to Building a Profitable Coaching Practice could be worth investing in.
Although pretty basic it has some very good reviews and is in its second edition. 
6. Is there support after you complete you gain your certification?

It can be scary when you first start coaching so ask what follow up support they offer the graduates of their coach certification program to help them when they actually start coaching? For instance some schools have an internal mentoring or supervision program for new graduates. 
If so how as how it works and what is the cost?

7. Does the course have the right coaching focus for you?

Always ask to have a look at the syllabus and what it includes.  Make sure it has the coaching focus/philosophy that is going to work for you. For instance, is it personal development, business, executive or corporate coaching focused?

If you are already clear on the coaching environment you want to work in – say small business - check if the course syllabus includes modules that educate and relate to this.

If not, ask if there are there are any add-on trainings you can take after you complete your basic life coach training which will give you a credible business coach certification?

8. What is the financial commitment - all of it!

What is the total cost of the course and options for payment? Are there any extras such as sitting for their graduation test? Are there payment terms available? Is there a loading for paying by instalment or credit cards?
9.  Can you get your money back?

If you find the course is simply not what you thought it would be despite all your research, can you get your money back and within what time frame of starting the training?
And if for some unforeseen reason, such as health or family, you cannot complete the course, what are their policies around refunding all or a portion of the cost?
If possible get this in writing.

10. What does it take to graduate?

What is required to graduate from, or to be certified by, your school?  If the coach training certification just means completing the course with no assessment or testing, then it is not of much value.
There needs to be some sort of evaluation of your skills as a new coach's skills, either with assessments during the course or at the end, before certification is given.
---
Getting Control Of Your Life Coaching Certification
Add your own questions to those I have provided
If you are not happy with as answer, ask again! 
Take ownership of your coaching future by choosing your coach certification training carefully! 
Be willing to keep asking questions until you get satisfactory answers that will enable you to enrol with confidence. And be sure to also check out more great advice in Choosing The Right Life Coach Training School For You
Have A Great Story About This Topic?
Do you have an experience to share or some advice to give about getting credible life coach certification
What Other Visitors Have Said
Click below to see contributions from other visitors abaout life coach certification