Solving The Coaching Niche Dilemma
Page Summary
How do you find the coaching niche or specialty that fits your expertise, has clients that can pay and is in enough demand? It can be challenging dilemma and this page addresses what you need to take into consideration as you explore your options.

Quick Links
A Unique And Proven Way to Raise Your Coaching Rates
Click to book for this once-off free event, May 19 or May 21

What Are Life Coaching Niches?
Life coaching as a body of work covers a vast array of subject areas. Depending on your expertise and passion, you could choose any one of these areas as the coaching niche that works for you.
I agree with the school of thought that puts forward the view that coaching is completely generic. The truth is that any well-trained skilled life coach should be able to coach in any situation from persona to business to executive etc, regardless of the their background or skills.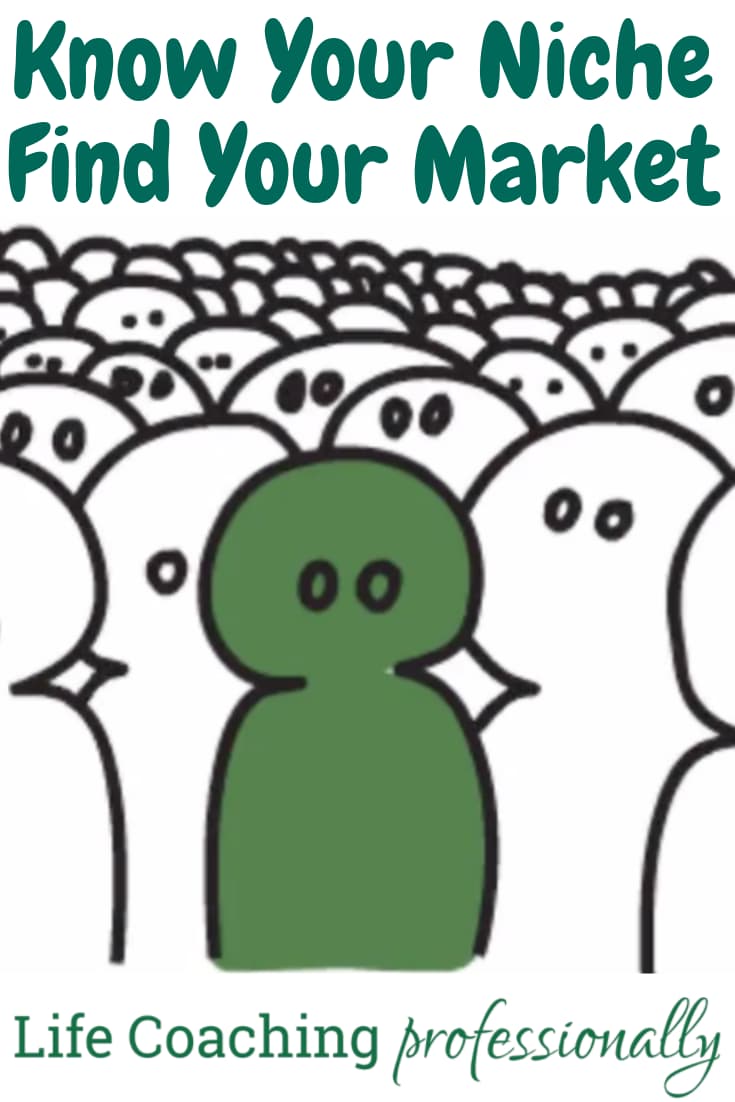 However, many coaches narrow their ideal client down to a specific area of coaching where they have additional expertise.
The coaching niche you choose can be within any of the main coaching fields (personal, business, career, corporate, group or team and goals coaching).
Within each field there are numerous niche variations such as relationships, health, productivity, time management, confidence, parenting and so on.  
So a niche is simply a small segment or subset of the total market. It's the area you specialise in, as a life coach, and who you focus your marketing activities towards.
When you first start seeking clients, unless you already know your perfect life coaching niche, the chances are that you will most likely take on all-comers just to get experience and a feel for what it's really like to coach.
Then as you become more confident and identify the type of client you best like working with, you can explore your niche options and develop the coaching niche that could work best for you and those clients. 
Confused by the difference between a niche and a specialty?
There is often a bit of confusion about the difference between a niche and a specialty in coaching .
For instance, if you specialise in career coaching, your niche might be helping people recover from the trauma of being made redundant and finding a new direction.  If you specialise in small business coaching, then your niche might be coaching start-ups, or clients from a particular industry where you have a background that gives you an edge.
Help To Discover Your Life Coaching Niche 
My colleague Cindy Schulson is an internationally renowned expert in the art of defining your own coaching niche and developing the right message to explain it.  She has created an invaluable free Niche Success Kit to support you to get on your way. 
Cindy says the most important niche marketing tool is to identify two vital pieces - the WHO and the WHAT of your coaching.

When you are looking for a life coaching niche market, you need to look at 'WHO' is your target market, the people you are aiming to help, and 'WHAT' is the solution that you provide for them. 

And when you put those two pieces together you have what you call your Niche. 
Once you have decided who your ideal coaching client is, the next step is to create a message that is authentic, congruent and inspirational to attract those client to work with you.  She also offers a free Branding Template to help you create your message. 
4 Quiz Questions To Help You Choose Your Coaching Niche
Here are four questions to quiz yourself with when you are choosing your speciality. There is no right or wrong answer. Each is designed to be a prompt that helps you define the best coaching niche for you and the one that will work best for both you and your clients..

1.  Why am I choosing this niche? 

Does this niche inspire you? Do you have a passion for helping people with a specific issue. Choosing a niche only because it is one where you may make a lot of money is not the right answer. 

2.  Do I have the right background or education for this niche?

This includes such things as a background in running a small business, managing a sales team or a particular life experience such as divorce or parenting. Whatever your education or work-life experience, this could be a factor in choosing where to specialise.
Ask yourself: "What experience or qualifications do I bring to the coaching experience for the client in addition to my coach training?"
And I must emphasise life experience are not enough to be a credible professional coach. Your experience is your experience and you can't coach effectively if that is your only claim to being a coach. It may help you choose a niche and be a mentor to clients but coaching is a specific skill and you should be properly trained to deliver it properly.  
3.  Does this coaching niche contain good demand from clients who can pay?

You may feel your vocation is to work with a certain type of client, but those clients need to be people who can afford you.  For instance, having a passion for helping single mothers on welfare is great and noble but can they afford your fees?
Sometimes it is better to pick a related profitable client niche that may appeal to you, for example "parenting for step-parents" and offer group coaching free or at a really low fee to those single mums you'd love to help but are not likely to have the money to pay you.  I used to coach pro bono with a group recovering drug addicts as although they couldn't pay, this was something close to my heart.
4.  How crowded is this niche and can I market a point of difference?

As an example, if you choose to be a career coach, and call yourself that, you will just be one of a crowd.

You may need to be able to narrow the coaching niche down to a specific demographic - say school leavers, or people who have experienced redundancy, if you are going to become known as an expert in a certain branch of career coaching.
Can You Successfully Coach Without A Niche?
Of course you can! And there are some very successful life coaches with no specific niche.  But even they usually have a specialty in the way they coach, or the type of client they favour and have carefully crafted messages to explain the range of who they can coach. I only ever called myself a life coach but had pages on my website that explained how I would coach the many personal, career and small business issues. 
The skill-set is the same - asking the right questions, helping the client with setting, planning and achieving goals and finding the underlying issues so that solutions can be discovered.
Personally I believe too much pressure is put on new coaches to define a niche rather than just learn the skill of coaching first.

I do believe though that the background, experience and understanding from which questions are asked by the coach and how the answers are listened to, understood and answered, can be equally important.

For instance, a Life Coach with a therapy background may understand the personal issues, but be totally out of depth with the language, politics and needs of the corporate or business world or coaching executives. Conversely those who choose the niche of business coach because of their background, also need to have the training be able to handle the personal and  issues that will invariably crop up.
This is where being able to offer a combination of coaching and mentoring, even consulting can often have the edge.
Do you have a great coaching niche or speciality?
Do tell us about your niche and how you came to choose it.