Find The Best Life Coach Marketing Plan For YOU!
And How To Avoid Expensive Mistakes
Page Summary
This section will help you steer safely through the minefield of finding the right coach marketing plan for you. You'll also learn six powerful questions to ask any "expert" who says they know how to get you clients so you don't end up with an expensive mistake.

Why One Size Does Not Fit All For Life Coach Marketing
I subscribe to several coaching forums and help raising their profile and getting clients is the help most asked for by new and experienced coaches alike.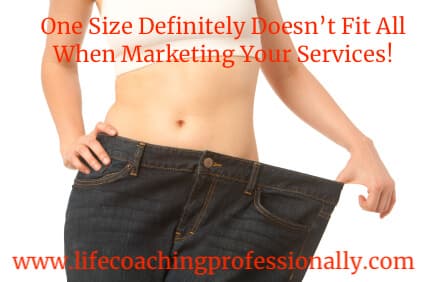 The replies to such posts often include assurances from coaches and others that "this course", or  "failsafe method" has worked for the author and is the way to go and offering (often at considerable expense) to pass on the magic client attracting template.



The truth is that one size does not fit all when it comes to a life coach marketing plan.  A marketing strategy that may work for one coach may be totally wrong for  another. 
I hear many sad tales from coaches, just starting out, who realise too late that they have spent a fortune on engaging a "coach marketing strategist" to teach them how to get coaching clients.

 But for many reasons did not get the results they have been promised.
Finding The Best Life Coach Marketing Plan For YOU!
Basically it's about that wonderful coaching tool, the Be Do Have model.  Who do you have to BE to be able to DO what needs to be done to attract or HAVE those ideal clients? 

 And many of us just can't be who we need to be to follow a particular life coaching marketing plan.
For instance, you may be an excellent coach but are basically shy. So you may struggle and get stressed out with with trying to BE the person who succeeds at a marketing strategy that involves cold calling or public speaking - no matter successful it may be for the person who recommended it.
Or a recommended strategy of masses of posting on social media just send you into confusion and overwhelm.
And, if you do decide to go down a particular path on the advice of a marketing guru that does not suit who you are, it may not only cause you unnecessary stress but not get the result that was promised. 

It's about choosing what seems to be a good fit and being willing to experiment a little until you find a what really works for you.
So before you sign up for a marketing program that promises the earth on how to get clients as coach, check it out thoroughly and make sure the methods are in line with your own personality, values and preferences.
You can read more about the Be Do Have model by clicking on the link in the related pages at the bottom of this page.
 How To Avoid The Expensive Traps When Choosing a Marketing Plan For Life Coaching 
In many instances the fashionable word "coach" has just been adopted - even hijacked - by many marketing strategists who know zilch about coaching or the distinctions of creating a marketing plan for coaches.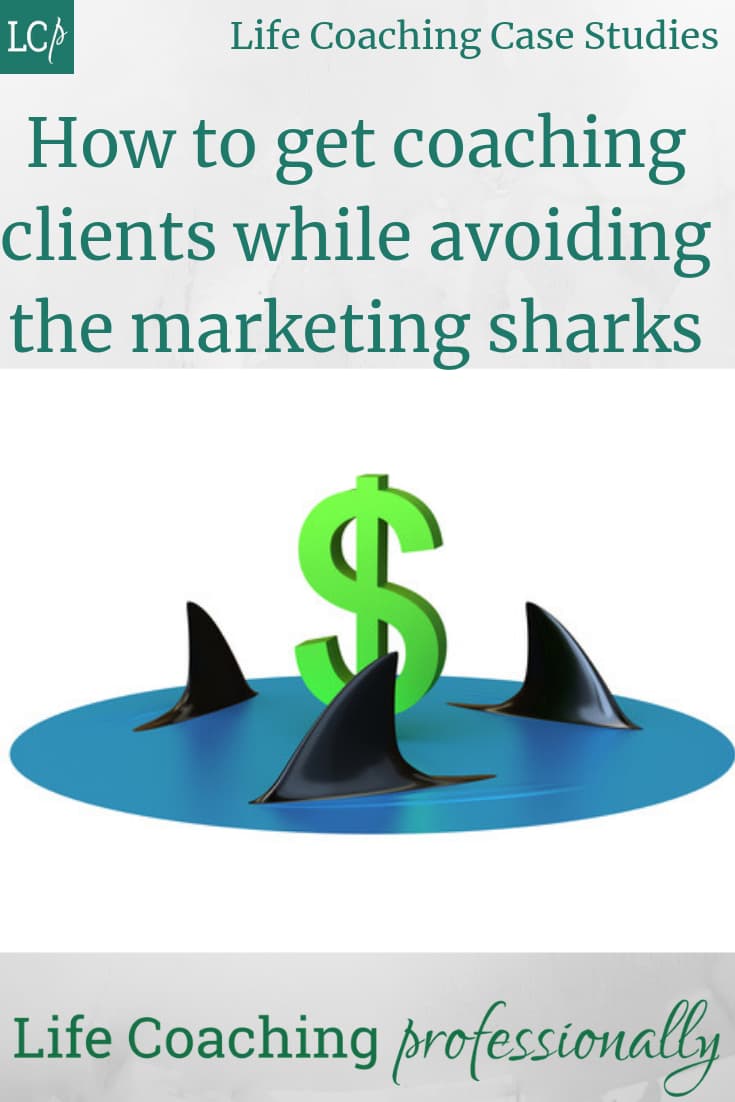 I recently came across a new coach who was sold a marketing plan by someone with 25 years corporate marketing experience.  What he was offering sounded terrific, but although he may have been brilliant in the corporate world this did not equate with working well with a self-employed new coach who needed to know how to get clients.  My new coach spent a lot of money for no results.

The trouble is that many of these well-meaning marketing experts come from a big business background and do not understand the marketing needs of a solo service business person, such as a coach, or appreciate the coaching genre.
I hastily add that there are, indeed, many excellent experienced certified life coaches coaches who are also business coaches for coaches. They specialise in showing you how to get coaching clients and will effectively "coach" rather than consult with you to find your best way of marketing and hold your hand through the process. The trick is to know how to find them. A good starting point is the ICF (International Coach Federation) website.
As I've said, one size doesn't fit all when it comes to a life coach marketing strategy. So you may need help getting clear on what is the best path, amongst the many options, for you to take for your particular niche. Here is what I suggest that can help you get the clarity you need. 
Six powerful questions to ask before you commit
These question to ask before you commit to a life coach marketing plan will help you filter out the marketing experts to find the best way forward for you. They will help make sure you are not being taken in by a someone who doesn't really understand what you need personally or has no real appreciation of the coaching profession?
1. Where did you get your knowledge/training about the coaching profession?

 And have you worked with many coaches?
This will let you know whether or not they really understand what coaching is. 


2. Do you guarantee results?

Some marketing consultants do but you have to follow their instructions exactly.  So find out what the conditions of that guarantee are (in writing).

Ask yourself and answer honestly if those conditions are realistic for you given your available time and what you feel you are capable of.
 
For instance, if one of the conditions is that you do a specific amount of social media posts, make a certain number of calls, or give so many presentations, is that going to work for you.
There may be many reasons why it may not and now is the time to be honest with yourself about what you can realistically commit to.
3. If I don't get the results you are promising, is there a refund?

And if so, ask whether there are any conditions for refunds that you need to know about. Even the best relationships should have exit clauses.

4.

 

Can I pay by instalments?



If the answer is yes, you may be wiser to choose this option even if it costs a bit more.  Then, if you discover that the marketing program you have invested in is not what you need, at least you can just opt out of the program. This is why Q3 is so important.
I recently mentored an experienced coach wanting to invigorate her practice. She had asked for a refund when she realised that the ex corporate marketer she employed was an expensive  waste of time when it came to getting coaching clients. She did not get the refund but because she was paying by instalments she was able to salvage most of her investment.
However you approach payment, be wary of signing a contract that binds you to the full amount and preferably, pay by direct deposit rather than give your credit card details.
5. What will be your marketing plan for me as a coach?
If they say they have a system, ask about that system – what does involves and evaluate whether you feel comfortable or whether it could cause you stress. For instance, does the system involve cold calling or something that freaks you out, or does it offer a variety of alternative strategies?  
Also, ask whether they coach you through the process and any blocks you may have or just tell you what to do and to go do it. There is a big difference.

6. Ask to speak to people who have used them to help find clients.
This can be a tricky question as obviously they are not going to put you in touch with coaches who won't say nice things.  But it will give you a chance to see the coaches they come up with and what sort of clients they have. Often people give great testimonials for a training about getting clients, but rarely about whether it has really worked for them and they have actually got more clients. 

I hope you have found this article helpful in navigating your way to a marketing plan that will really work for you.  I also encourage you to look at these Easy and Affordable Ways to Market Your Coaching.  One or more of them may be something you are drawn to.