Find The Best Life Coach Marketing Plan For YOU!
One Size Doesn't Fit All
One size does not fit all when it comes to marketing yourself as a life coach.  Here's why you should honour who you are and find what coach marketing plan works best for you to avoid stress and expensive disappointment.
How best to market yourself to get clients is something that seems to be a major challenge for many coaches. I subscribe to several coaching forums and this is the help most asked for by new and experienced coaches alike.



The replies on those forum requests from often include assurances from coaches and others that "this course", or "that failsafe method"  that has worked for the author is the way to go and offering ( often at considerable expense) to pass on the magic client getting bullet.



The truth is that one size does not fit all when it comes to a marketing plan for your coaching business.  A marketing strategy that may work for one coach may be totally wrong for  another. 
Different Personalities Succeed With Different Marketing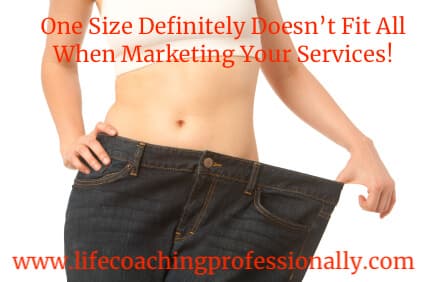 Basically it's about that wonderful coaching tool, the Be Do Have model.  Who do you have to BE to be able to DO what needs to be done to attract or HAVE those ideal clients? 


For instance, you may be an excellent coach but are basically shy.
You also may struggle with a marketing plan that involves cold calling or public speaking - no matter successful it may be for the person who recommended it.

Or the recommended strategy of masses of posting on social media just send you into overwhelm.
And, if you do decide to go down that path on the advice of a self-appointed coach marketing guru, it may cause you untold and unnecessary stress and not the result that was promised. 

It's a question of choosing a life coach marketing plan that works for YOU - and being willing to experiment a little until you find something that you feel comfortable with.
So before you sign up for a client getting program that promises the earth on how to market yourself as  a life coach, or any niche for that matter, check it out and make sure the methods are in line with your own personality, values and preferences.
Some Life Coach Marketing Ideas
My page on Marketing Yourself As A Coach has lots of ideas for you to consider and try for size and I also particularly recommend your explore the work of Cindy Schulson  of Marketing From Within who is internationally recognised as an expert coach in the field of getting your message right and success marketing for life coaches. Have a look also at the excellent Free Online Trainings she offers to help with branding and getting your message right.



Personally, I found in-person networking, public speaking and article and book writing worked best for me.  When I moved to  country I found that my Wendy Buckingham website also worked well because of the search engine relevant content, with the occasional Google Ads boost. With Google Ads though, it does take a bit of experimenting to get the right keyword formula to attract the clients you want. I also use social media but not to any great extent.
Google provides lots of information for using Adwords to help you get it right.


Finding The Right Online Business Building Tool For You
When it comes to a website as an online business marketing tool, I've found I just can't go past Solo Build It! as an environment for using my website to creating a successful online coaching business. You will find lots of "free" sites and simple site builders but none of them provide the structured support and action steps to create an actual, sustainable online business.

  And again, it's all a matter of what works for you., not me.


So again, the main thing to take from this is that one size definitely does not fit all when it comes to a life coach marketing plan and the answer is to find the size that fits YOU.