Starting A Life Coaching Business Successfully
Page Summary
Are you thinking of starting a life coaching business as an independent coach? This guide will point you in the right direction to create an efficient and pleasant work environment. It will also help you put in place some basic systems and legal protections and suggest affordable marketing ideas.  

Creating An Efficient Coaching Space

How you set up your coaching space may depend on whether you prefer face to face interaction, phone or by having an online coaching business via Skype or Zoom, or as so many coaches do, a mixture that best serves your clients. 

However you are going to meet with your clients you will need the same basic furniture and equipment.
But if you are doing face to face coaching, you also have to think about how you can craft a space that is comfortable for you and private and welcoming for your clients. 
My information about setting up a life coaching office for coaches working from home tells you what you need to get started.
Mastering Online Life Coaching
The Corona Virus has made many coaches, who haven't done so before, transition to using phone or online platforms to coach their clients. It can be a challenge if you've only ever coached face to face but the information and tips in Online Life Coaching will make it a lot easier.

I found remote coaching (which I've done for years)  just as effective as face to face for the majority of clients, though there will always be those who are reluctant and need convincing. 
So do check out the benefits of phone and online coaching coaching with tips for mastering the technology and also, importantly, looking good on line.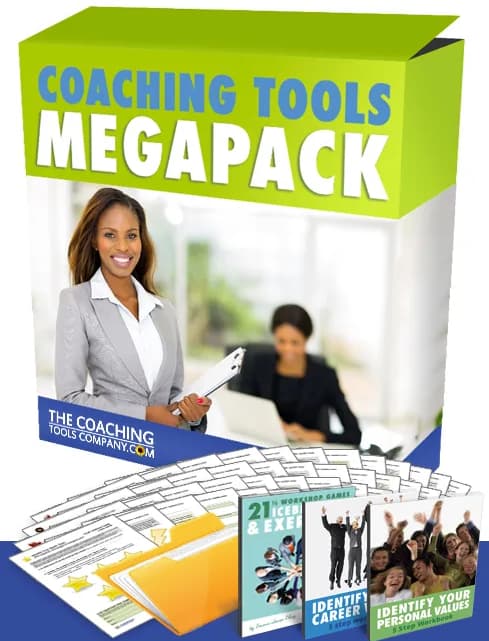 When you have completed your coach training you may be looking for tools, forms and templates to help get you started. I highly recommend you check out the kits created by my colleague Emma Louise of The Coaching Tools Company. 
The Megapack is the most popular and best value tool  kit and contains all the career and life coaching processes and resources instantly, in ready to go themed toolkits. All brandable with your own business! 
In particular the Welcome Pack for clients could save you loads of time in working out an agreement, invoicing and lots more. 
As well as the Megapack,  The Coaching Tools Company  offers individual Work/Life Balance, Career, Time Management and Small Business kits. If you join their newsletter mailing list you can receive regular free gifts, which you can adapt and brand for your coaching practice.  

Get Your Coaching Business Systems In Place

As with any business your coaching practice needs systems to keep track of prospective clients, client sessions, coaching session times, payments, expenses and so on. 
Your business setup:
You also have to decide whether you are going to set yourself up as a sole trader or a limited liability company or whatever structures are available in your country. Your accountant may be the best person to advise you on this for your particular circumstances.
Payments: And how are you going to take payments? There are lots of options to research to find the one that suite you best such as Paypal and Stripe or even direct deposit.
There are several software program systems specifically written for coaches to take payments and keep track of clients,  but they can be pricey and their format may not suit the particular records you want to keep. Many offer a free trial period so you can try before you buy.
To be honest until you reach a point where you really feel overwhelmed, or if you are on a tight budget, I suggest keeping track of clients records and payments with simple spread sheets and folders (physical or online) may be sufficient.
Decide Your Life Coaching Fees
Maybe you are confident about what you can charge. Maybe not! There are more words written about setting fees than almost any other aspect of starting a coaching business apart from how to get clients. 

It is vital to get it right if you are going to attract your ideal coaching client, whether it be a niche in life, executive or corporate coaching.
You'll find some useful pointers to help you get it right  in Life Coaching Fees. 

 Create Your Marketing Plan

You also need a system for getting out there and getting known both face to face and online. Marketing your coaching need not be expensive and there are many strategies including networking, clever business cards, writing articles and giving presentations as well as many social media options that can raise your profile with prospective clients.
You'll find how to effectively use these strategies in 12 proven no cost and low cost marketing ideas for a coach. 

And, if like many new coaches, you are uncertain about how to tell people about your coaching, I recommend you visit Marketing from Within, where my colleague Cindy Schulson has some great free templates and trainings and an online community to support with this.
Life Coaching Agreements And Contracts
As with any business your coaching practice should be set up so you have protection from the eventuality of legal action. Things like agreements, disclaimers, copyright protection and even a refund policy are critically important.
My lawyer colleague Lisa Fraley, (who incidentally, is also a certified life coach) has made her niche helping coaches with all those legal issues you need to put in place to keep your business and income safe and secure.
Here you can explore the much needed legal tools to protect your business 
Life Coaching Insurance
Some providers of coaching services want you to have insurance to protect themselves against anything you might do in their name, which I think is quite reasonable. 

But for coaches working on their own behalf, not giving advice or combining coaching with therapy, personally I don't think it is a "must have" if you have legal agreements, contracts and disclaimers in place.
Life Coaching is unlike therapy or alternative medicine where advice is given. 

I've asked the question on coaching forums many times - has any life coach ever had to use their insurance when a client has sued them - and  to date never got a yes. The few cases I have heard of were because the coach had strayed well outside the boundaries of coaching.
So whilst taking our insurance may give you peace of mind you have to work out whether you really need it.

Do you have a story about Starting A Coaching Business
I'd love you to share it.
What Other Visitors Have Said
Click below to see contributions from other visitors to this page...