How To Make Sure Your Life Coaching Website
(or any site) Is Found And Engaging 
Many Life Coaching Websites look great but don't really "work"  to attract clients. Here's why your site may not be getting found by prospective clients and what you can do about it.
Caveat Emptor! Beware The Traps
If you want to use your life coaching website as a productive marketing and business building tool, you need to make sure it is easily found and engages your  visitor to stay, explore and feel confident in taking the next step to engage you as their coach. 
Unfortunately, when you are creating your first website, it's very easy to be caught out by persuasive marketing.  Many high profile building platforms promise "websites in 5 minutes" or with minimal effort but the truth is that the advertising is either misleading or not telling you the whole story which can lead to expensive mistakes.
So I'm advising you, no begging you, not to sign up to a website platform without taking my, experience, advice and suggestions into account.  I also have the advantage that my husband is an active researcher, writer and coach on website development so I have seen plenty of painful experiences that could have been avoided.
Here's the problem: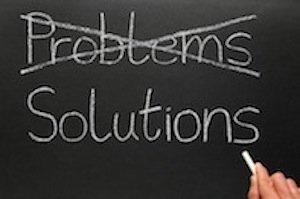 Commissioning  a designer or buying a template design for your website is not where you need to start. You wouldn't go to a builder and just say, "I want you to build me a house" would you? You'd list the features you wanted, look at other houses with similar features that really worked and  have plans drawn to make sure you got what you needed.

It's the same with a life coaching website. It would be a huge mistake to just say to your website person "I want you to build me a website" because although they may be very good at building, they may know little about user-friendly site structure, SEO (search engine optimisation) or the many other factors that make sure your site will be actually found and visited.
Even when you use template providers like Wix and Weebly, all you will be provided with is a nice looking template and some basic SEO structure. Once you have got the first round of images and text in place there is still a long way to go to make what looks good, into an effective business building tool.
If you are just starting out creating your life coaching website, I really recommend you check out   Solo Build It! .  It's a complete website and online business building package.  And if you already have  a Wordpress site, Solo Build It for Wordpress and Yoast will be a great hassle free help in building your coaching business through your website.

Attracting Life Coaching Visitors And Clients
As explained, there are some gorgeous looking life coaching websites. Many of them have one big failing – nobody finds them - so they get very few visitors let alone clients! This is because not enough attention has been paid to how the site is going to attract visitors.

There are just 4 ways a brand-new site can be found, other than by you sending your friends to it or with a pre-existing mailing list.

Advertising: Potentially Expensive
Life Coach Directories: Choose very carefully, there are some good ones but lots of duds.
Posting comments or as a guest pieces on relevant websites and blogs:  need to be original or your host can get penalised by Google for duplicate copy. 
Social media such as LinkedIn Facebook and Twitter: Can be effective but time consuming and a bit hit and miss.

Organic Search: Free but it takes time to build.
So what is organic search?
If you do not want to pay for advertising and also do not understand and initiate the concept of using organic search to get your website found,  there will be very few visitors 

Organic Search is about Search Engine Optimisation (SEO); that is making the content visitor focussed and search engine friendly. It is not enough as most believe to just add a few relevant keywords.   You content must have what your visitors want to find and what the search engines need to give you a good ranking.
For example, if you have come to this page from a search on Google, Bing or one of the other search engines, you found me because of the organic search rules I have applied that ranked me high up the results page.
When content is written with this focus, Search Engines have a better chance of understanding what your on-page content and the site are all about.  This means that if someone is searching for a particular thing (for example a life coaching specialty) and you have an excellent page about it and the Search Engines know about it, you have a better chance of being found.  
It is not an instant process, but once established, your page, on that specific subject,  will be easily found because your content is high quality and relevant to what the person searching is looking for, as well as containing relevant keywords.  
Ideally, you aim for your  website to pop up on the first page.  The higher the better. After all, when was the last time you did a search and got as far as looking at page two of the search results!?
You can find the popular search terms that people are using to search for information by using Googles Free Tools or outsource to a professional SEO expert. Note you will be prompted to register for an Adwords account with the Google Planner but you do not have to actually operate one.
One service for building an online business and powerfully finding keywords is Solo Build It! (SBI!). They have a fully integrated system and a  user friendly Action Guide that is available for Wordpress users. I have written extensively about our personal journey with SBI! since 2010  and you can read about it here.
Another free tool I highly recommended, if you are using Wordpress is Yoast.  It works very well with SBI for Wordpress, or on it's own. It will effectively help you communicate with the search engines exactly what they need to know. 

Of course your website is not going to be your only marketing tool.  Here are lots more affordable marketing ideas for life coaches
Your Websites Should Be Responsive And Mobile Friendly
Chances are that you use a mobile phone or a tablet or iPad. So does a rapidly growing proportion of the search market.   So your site needs to be mobile ready which means that it displays properly for a visitor using a mobile and they don't struggle to find their way around your pages.
If you already have a site, you can use this mobile-friendly tester from Google to see if you are mobile friendly.   Remember  though, that, even though your site may be technically OK, life coaching websites also need to be easy to navigate.  
Not being able to easily find  the information they are looking for, such as how to contact you, is a sure-fire way to lose visitors and potential clients.
Is Your Site Security Up To Date?

Any new site created will be naturally secure assuming you are using a reputable host but if you have a site that is a few years old you may need to update its security to Google's new requirements.  

Most older website addresses begin with HTTP://. You may have seen this. However, there is an accelerating move to create a more secure web. You will know a site is up todate secure because it displays a lock in the address bar… like this

And that is not all.  You need to notify Google and Bing that you have also made the changes!  Do you know how to do that?
Google are treating this matter so seriously that in 2018 they began pushing sites that are not HTTPS Secure, down the search result pages. Worst, browsers are already warning visitors that a page is not secure and potentially scare them off the page. So – if your site isn't HTTPS ready, then now is the time to act.  Here's more from Google on the subject. 


8 More Tips For Your Websites Success
1. Make sure all your links work
Technology can sometimes break! If a link on a site I am visiting doesn't work and I'm in a good mood I take the time to email the owner of the site "link not working" but, if I'm in a hurry or not feeling generous, that's it – I'm off to the next site!
Regularly check that all your links to other pages and downloads are working. And that goes for links in emails and newsletters too. Depending on the service you use there are automatic programs that will check for you and notify you of a broken link.
2. Remember video and pop-up box etiquette
Visitors can be really put off by videos that start to play the minute you land on a page.  I know I am. Pop-ups that  obscure the page and invite me to buy or subscribe before I've even had time to draw breath, are just as bad.     
Never have a video that autoplays when someone starts on the page. It is poor website etiquette and will quickly turn off the hardened visitor if used without sensitivity.
Google will penalise a site that has a pop-up on mobile displays that prevent visitors from reading text.  So if you have one, find out about removing it or placing it so it doesn't interfere with the normal reading process.  
Do remember though, that there are many factors in the ranking of your site  so if you have an amazing site that meets all other organic search criteria, having a pop-up may only have a small effect - and only on your mobile ranking.

3. Make it easy for visitors to get in contact with you
I'd never advise putting your phone number or email directly on your website.  It's too easy for it to be scanned and sold to people who will scam and pest call you.
So make your "contact me" easy to locate on your site and simple to fill in asking for just enough information to enable you to get back to them by phone or email.   I'd advise against making their phone number a requirement that must be filled in.  
You could even include an optional box for them to tick if they want to be on your mailing list, so they don't feel they are going to be "captured" for future communications from you.
4. Show Your Visitors You Are 
 A Real Person As Well As A Life Coach
I'm amazed that some life and business coaching websites talk about coaching and how wonderful it is but there is no "About Me" page to back up the information and make it personal and credible.
Potential clients want to know who you are apart from your coaching qualifications. It is important for life coaching websites to have some friendly and engaging information about the coach that gives identity and personality so they want to know more. 
Some of this should also be on your home page so prospects feel they are getting to know you straight away.
No matter how good looking and easy to navigate your site is, if the visitor does not relate to you as a friendly and credible person, they will be gone in a flash.
5. Focus On Attracting Your Ideal Client
Following on from the last tip, whilst it is fun and exciting to write about your coaching, the techniques, approaches and modalities, what your soon-to-be clients want to know is how your coaching will actually help them and be worth their financial investment.
 So, focus on benefits of your services to your clients. Talk about the challenges that you'll help them overcome, the value of regular coaching sessions, and so on.
Showcase what you know that will help clients succeed like how to set exciting goals, or how to stay accountable to stay on track, or tips for getting unstuck.

While you can't promise your visitor that their dreams will come true, you can point to testimonials from other clients who have realized good things as an example. 
One person who has had the biggest impact for me to create an authentic brand and maximise my chances of getting my message across is Cindy Schulson.
Cindy has loads of free and very helpful information on the website and also has various free and paid programs..
Joining her mailing list and taking advantage of  her free offers will never be wasted time. 

6. Hassle-free unsubscribe function
I had been trying to unsubscribe from a  vitamin site for months. I even sent them emails but eventually, I had to block them altogether.

Make the unsubscribe function for your newsletter a simple one-step process  and check regularly that it is working. 
7. Do you need a "privacy" and "affiliate" page.
If you are collecting data, say a newsletter subscription, or selling a product or service through an affiliate, you will by law need pages on your website about these.  My Privacy Policy page and Affiliate Disclosure Information, a good example of how  these can be written and you are free to copy them (changing your particulars!).
8. A Website Disaster Case Study To Learn From
Here's the experience one of my recent coaching clients had:
She went ahead commissioning her site without enough research and against all the recommendations  and questions I suggested she should ask before she went ahead.  Her main criteria was to work with someone local. She had found a local Wordpress designer nearby who assured her she could create the site she needed.
You can read the full story of how her website disaster story unfolded and learn from it here.
Recent Articles
Recent Posts
Mar 02, 19 05:21 PM

One size doesn't fit all when it comes to your life coach marketing plan. So choose a way to market your coaching that will give you results without stress.

Feb 26, 19 12:00 AM

Frustrated with trying to build a coaching website and actually getting people to view it? Frustrated with finding that "free" website is not really free but involves lots of extras if you want it to…

Feb 11, 19 07:17 AM

Do you think face to face is the best way or do you want to explore the benefits of phone, Skype, Zoom or some other platform. In this online world it's good to be able to offer more than one way of g…