eBook; Write a Coaching Book
How to (easily) Write a Book About Your Coaching Niche 
+ 4 ways to publish
In How To (easily) Write A Book About Your Coaching Niche (and 4 ways to publish) you'll learn about the realities of writing a book about your coaching speciality and overcoming the challenges. You'll also get to know the different ways of getting published and purchased. From my own experience over many years, I show you a simple path to follow for the least stress and best results.

Why I created this important book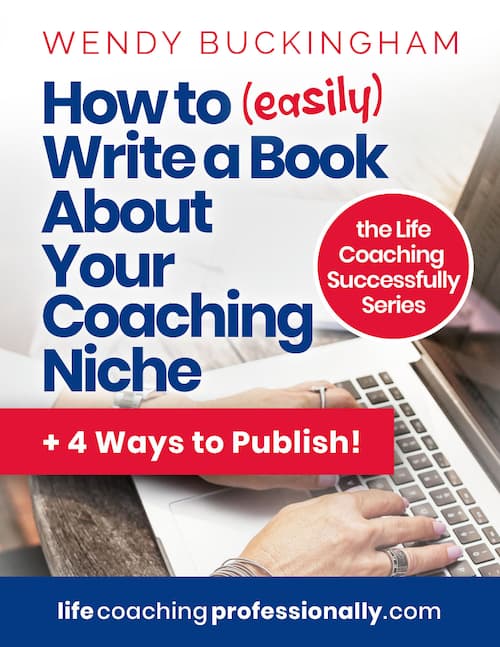 I wrote this book because I have met many coaches who are keen to share their valuable information and help, through a book.
But for many, and for many reasons, it never happened. Their book stayed stuck in their head as an idea, instead of becoming a reality and part of a valuable marketing strategy. .

I wanted to pass on how my original book helped set me up as a recognised expert on goal achievement, attracted clients and provided extra income.
So, with How to (easily) Write a Book About Your Coaching Niche, my aim is to help you become a successful author, whatever your coaching specialty or niche. 
Invest in my book and follow my path and you'll be soon able to turn that "someday book idea" into a real book, that sets you up as an expert, and you can use to promote your coaching services. 
All the help you need to write a book to attract coaching clients
There are many reasons why coaches can feel overwhelmed when they attempt to write a book about their coaching speciality. If this is you, perhaps you may have started, got stuck and given up. Or maybe you simply didn't know where to start and what options there were for getting published. 
I address all those challenges and unknowns so you have the information and confidence to actually make it happen. 
You'll find in the book:
Help in identifying the market – who needs and will buy your book.
Hints for easy, stress free book-writing and overcoming writers block.
How to make an easy start with a "tips booklet".
4 Ways to get your book published, including eBooks.
Click image for a sneak peek at what's inside...
The perils of on-demand printing costs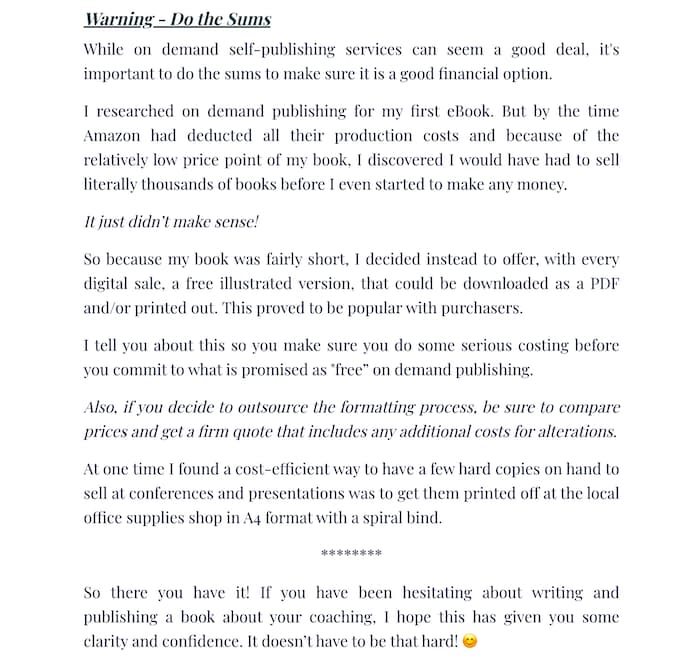 Click image to read
Wendy! WOW! This book is fabulous! It breathes support from the first word to the last! Your expert advice from your very own experience tremendously helped take away the "tense edge" of overwhelm that was keeping me from taking the next step in creating and actually publishing my own coaching expertise in book form!
Thank you for your generous spirit of help and encouragement! I am keeping your book close at hand as my "cheerleader" on my book-publishing journey!
Tami Thorsen, Life Coach. South Carolina
I know from personal experience that writing a book about your life coaching niche is a fantastic way to raise your profile and attract clients.  How to (easily) Write a Book About Your Coaching Niche + 4 ways to publish provides the essential steps and inspirations to lead you along that path.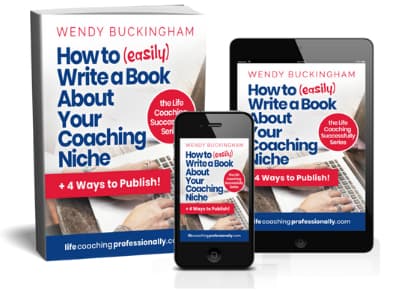 100% Satisfaction or Your Money Back
I am sure you will get real value from this book. However, if within 30 days of purchase you are not 100% completely satisfied, you will receive. 100% refund, no questions asked.
More help for growing your skills and promoting yourself?
I have written three other informative books (again from my own experience) that will help you to authentically attract new quality clients, increase your coaching skills and  promote your coaching services.