How To Use Guest Speaking to Promote Your Coaching
Becoming a confident guest speaker, in person or online, who uses presentations to promote your services, will transform the way you are perceived as a coach. Those who come into contact with you will have a different and more respectful sense of "who you are" almost from the moment you step onto the physical or online platform.
How To Use Speaking to Promote Your Coaching is a comprehensive guide that steps you through the steps and techniques of becoming a speaker. It will  grow your confidence in front of audiences of any size and help you avoid the hidden traps that can destroy confidence. 
"I thoroughly enjoyed this book! It makes the case immediately for why you may want to use speaking to promote your coaching, which keeps you reading. The book is well structured, with clear, direct language, and covers all the bases of how to use speaking to promote your coaching. It's bursting with so many good tips in such a small space: I took lots of notes and will be rereading it again soon. I feel much more prepared to use this strategy to promote my coaching after reading this book."
Misty The Life Coach, Atlanta, USA

Why I created this book and how it can help you
When I first began life coaching, I found that being a guest speaker at local business networking events added significantly to my credibility. As a result, I gained many quality coaching clients with a wide rage of personal and business coaching needs.
I was obviously nervous to begin with and afraid I'd get it wrong. But each of the events gave me new confidence and I eventually became a confident speaker and online webinar presenter. 
I was lucky enough to get lots of support and "feedback" that guided me along the way so I have  written How To Use Speaking to Promote Your Coaching to pass on the benefit of my experience.

This eBook will support you to create an effective, engaging and trouble-free presentation both "live" and online. It is crammed full of information you may not know and includes strategies to adopt and pitfalls to avoid so you can control, and not be let down by, the logistics and technical aspects of your presentation.
All the help you need to advance as a main or guest speaker
I've included:
Help overcoming speaker anxiety.
How to get started as a speaker.
10 Pointers for speaking success.
Controlling the logistics and technical aspects of your presentation.
Mastering the often overlooked distinctions of online presentations.
Click image for a sneak peek at what's inside...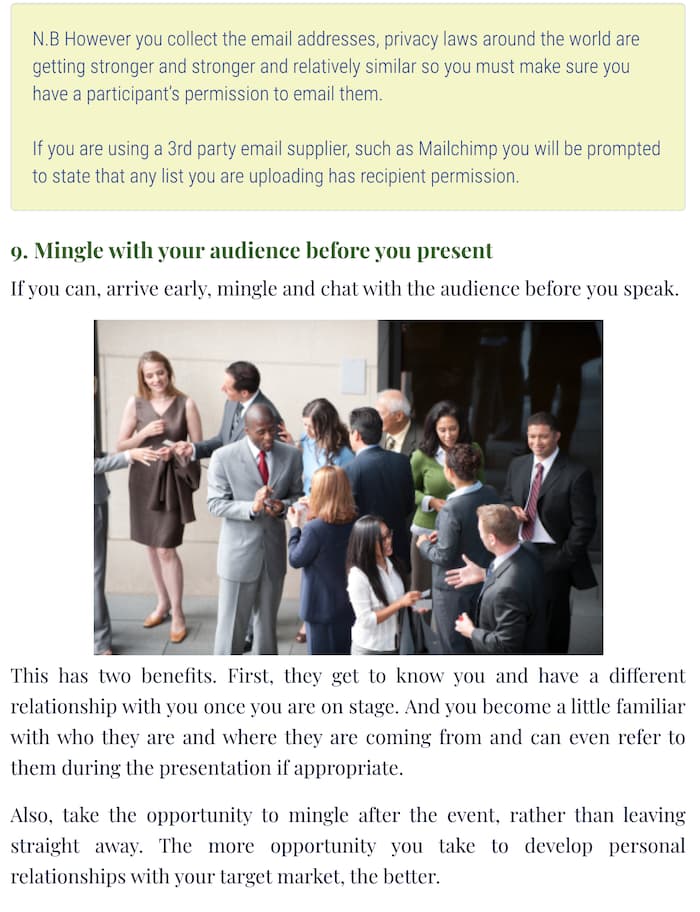 Click image to read
I know from personal experience that if you master delivering an inspiring, engaging guest speaker presentation, you will soon be recognised as an articulate expert and may even be in demand as a paid presenter for all sorts of occasions. You will also attract committed new clients. 

Invest in "Using Speaking to Promote Your Coaching" and you will be well on your way to mastering this proven marketing strategy.
100% Satisfaction or Your Money Back
I am sure you will get real value from this eBook.  However, if within 30 days of purchase you are not 100% completely satisfied, you will receive. 100% refund, no questions asked.
Needing to learn more about selling your services?
I have written two other informative eBooks (again from my own experience) that will help you to attract new quality clients and authentically and practically promote your coaching services.