Choose Your Life Coaching Training Carefully  

10 Questions To Make Sure You Get It Right
Page Summary
Finding a life coaching training school that offers the best education programs for YOU can be a challenge.  Here are 10 questions to ask, to help make sure your certification covers all you need and you get the best value for your money.

Quick Links
What type of life coaching training do YOU need?
New life coach training schools are popping up all the time. Some are very good, others, not so much!
Unfortunately, many of the courses that are offering life coach certifications are marketed really well with flashy brochures, impressive websites and unrealistic promises. So, before you enrol, there is some serious research to be done. The following will get you started.
One size does not fit all when it comes to the life coach training and certification. This is because you may have particular interests and needs that one school can deliver well, but another cannot.
For example, when I took my own training with CoachU, the personal growth component was an important part of my own coach education. This is going to be true for most coaches because personal growth is a necessary part of anyone's own evolution as a coach.
However, it is especially true if you aim to become a life or personal growth coach and have little or no professional experience in the personal growth field!

Another example applies if you are interesting in working with employees or finding work as an executive coach within a large business. You should always find out whether this facet of coaching is included in the courses being offered. You may find you need to enrol in a separate business or corporate coaching course as an add-on, if the basic training of your choice does not offer this.
And if you already hold a degree in psychology or social work it's worth checking universities.  Many universities now have an add-on life coaching course that can be taken by graduates.
In other words, whatever your sphere of interest, make sure your life coaching training covers it and, if it doesn't, look for alternatives.

Having an experience in a particular subject doesn't qualify you to be a lifecoach. Equally, you don't need to have been a divorcee to be a coach for divorcees. But you do need to have the appropriate training and credentials to be credible and successful! 

Beware big offers, poor delivery
For example, one coach I know, took an online life coaching training she found on Udemy and it promised that after two days she would be qualified to work as a life coach!
Misleading marketing (at times) means that you need to dig below the hype, to make sure the life coaching school will deliver what YOU need to become a credible professional life coach.
As well, you have to be very clear about what you want the life coaching training to offer in the way of  focus, certification and accreditation. Don't just take what the marketing brochure promotes on face value.
Why I don't promote or sell particular trainings
The reason I do not promote any particular school on this website is so I can provide you with independent advice. When researching, keep in mind that many "guides to finding the best life coach training and certification programs" that come up on a Google search are in fact compiled as a marketing tool by a particular coaching school! The use clever marketing techniques to make the 'Guide" look independent but it is actually a lead generation process.
The 10 questions I have listed below will help you find The Best Life Coach Training Program For You!
Why Choose An Accredited Life Coaching Training?
Accredited life coaching trainings are one way of making sure you get the education you need to become a true life coaching professional. This is true even if you are just adding coaching to a related qualification you already have, such as psychology or counselling.  Here's why.... 
The hours studied will count towards your coach specific training requirements if and when you apply for credentialing through an independent life coaching association that is also an independent accreditation body. 

You may find it easier to get employment as a coach if you can show you trained through a course accredited by a well recognised independent association, even if you are not yet credentialed.  
Accreditation is for a course, not the school
N.B. Accreditation by an independent organisation such as the International Coach Federation (ICF) is given to the individual life coaching program, not as a blanket recognition to a particular coaching school. Each individual course, whatever the subject, needs to be submitted individually for accreditation.

Also don't just take a schools' word for it that their course is accredited - check with the association they tell you their accreditation is from. I recently did a check of claims from an online course that claimed it was accredited by a certain association only to discover that this was not so.

 Avoid The Traps Of Some Online Coaching Training Courses 

Life coaching schools offering online life coach training need to be even more carefully researched than a face to face training if you are to avoid disappointment and waste your money.  

Many of the larger and well known life coach training schools offer remote or online training to accommodate students who can't get to face to face classes and these are your best option.  
Unfortunately there are also a lot courses providing online life coach certification that cost little but may be worthless as a professional credential. In particular schools that offer very brief courses.
Life coaching is not something you can become proficient at, in a couple of days! 
Ask for specifics about the course content. Look for genuine testimonials and online reviews and even contact some of the previous students.   Also check out the accreditation status of the specific course you want to take as I have covered above.
Why online coaching training can also be a problem
This really makes the point. A new coach recently contacted me worried about the fact that the online training she had enrolled in, whilst informative and affordable, did not provide any opportunities for actual actually practicing her coaching.

One of the problems with some online trainings is that they have a format that doesn't usually offer interaction between students to practice on each other. In fact, I've heard many online trainings don't even offer interaction with the presenter of the course to ask questions and get clarification. The training is simply a data dump of information about coaching and certification is gained through written assessments.
Having interaction with your teacher and other new coaches is, I believe, a necessary part of gaining confidence and feeling ready to take on paying clients. 
So if you are a new coach thinking of enrolling in an online training, do check this out before you enrol.  And if you have trouble making personal contact and getting an answer to your questions – caveat emptor. 
10 Questions To Make The Best Life Coach Training Choice
Getting clear on what you need from your life coaching training by asking lots of questions will save you from disappointment and making an expensive mistake. These 10 questions are a starting point and you may think of more. If you do, please follow this link and let me know by adding them at the bottom of the page.
1. How well qualified are the life coach trainers?
Is the head trainer of the school an experienced, qualified, life coach with a credential from an independent coaching industry association? If so, which one?

Where did the trainer train and what specific coaching experience do they have?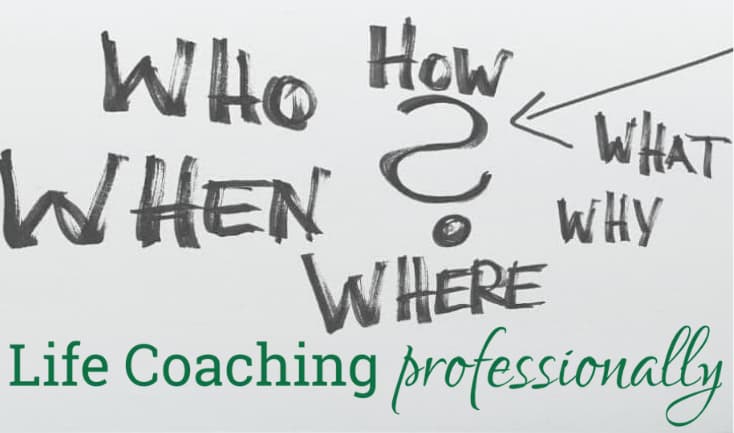 The rest of the instructors need the same scrutiny: 

What qualifications and experience do they have?
How long have they been out in the field, coaching?
Do they hold a credential from an independent coaching association
2. Is the course accredited with an independent coaching association?

As I said above, remember that it is the specific life coaching course, not the life coaching school that is accredited. One certification training on offer may be accredited, another may not.
So it's worth checking out the course with the independent association the school tells you it is accredited with. You can read about some of the on this page but if it is another association not on the list, you may need to check out their credentials too! Unfortunately, some can be made up associations.
You can see a list of Life Coaching Associations here and I strongly recommend that as a new coach, you consider joining one, because they often have great resources to help you in your coaching. 
3. Does the school offer online life coaching training?
You may not find it convenient to travel to face to face life coaching classes, so ask if the school provides remote training. By this I mean tuition online by telephone, email or Skype/Zoom conference calls.

If online life coach certification is offered, be especially careful and ask lots of questions and get references from past students.
There are some excellent coaching schools offering distance learning (I did all my training with Coach U this way).  However, it is very easy to make a school look good on a website but the certification offered may not be that valid in the professional coaching world. 

And do be sure to read more about choosing a training that is offered online from the Quicklink at the top of this page. It could save you wasting your money and disappointment. 
4.  What coaching tools are provided for your use?
Ask what coaching aids such as scripts to follow, that the school includes with the course. Ask to see a sample of one - any one - so you can see how it is presented and whether it has substance. 
More than once, I have been contacted by a student of a life coaching school and asked if I would share with them some of my coaching materials and guidelines that lead to success.
Apparently the instructors had set this task for them as part of their training! Wow! That's lazy teaching and not a sign of a competent life coaching school. 
The best life coaching certification trainings should include a full range of materials from coaching processes, to business building strategies and templates. 
However if you find you need more than the coaching tools provided, have a look at the huge range offered by The Coaching Tools Company. They are authentic and very useful and will really save you time and money.  The Welcome Pack is a real winner.

5. Do they advise and help on building your life coaching practice?
If they do, find out how specifically. Ask if there is a specific module on the subject.

The best life coaching training programs invariably include modules that will help you, at least, get started with the business side of building your coaching practice. So ask if there are aids to help a coach get started such as templates for agreements, invoices, evaluations, marketing materials and so on.
There are now several software programs available for the business building side of coaching, but they are expensive, so before you invest, check out what is included. 
6. Is there support after you complete you gain your certification?
Despite all your passion, excitement and education, it can still be scary when you first start coaching. So ask what follow up support they offer the graduates to help them when they actually start coaching.
For instance, some schools have an internal mentoring or supervision program for new graduates which, if this is important to you, can be a really valuable inclusion.

If they have something similar, ask how it works and the cost, if any. Of course, you can always employ a mentor coach separately if this is not available from the school and you can find more about this aspect of coaching here.
7. Does the course have the right coaching focus for you?
Obviously, all coaching courses are not the same. So always ask to have a look at the syllabus and what it includes.
Make sure it has the coaching focus/philosophy that is going to work for you and the niche you want to specialise in. For example, is it personal development, business, health, executive or corporate coaching focused?
If you are already clear on the coaching environment you want to work in – say small business - check if the course syllabus includes modules that educate and relate to this. I have covered this in more detail above.
8. What is the financial commitment - all of it!
What is the total cost of the course and options for payment? Are there any extras such as sitting for their graduation and certification test?
Are there payment terms available? Is there a loading for paying by instalment or credit cards?
As with any major purchases there can be hidden costs, so make sure you ask the question about every aspect of the course.
9.  Can you get your money back?
If you find the course is simply not what you thought it would be despite all your research, can you get your money back and within what time frame of starting the training?

And, if for some unforeseen reason such as health or family, you cannot complete the course, what are their policies around deferring or refunding all or a portion of the cost? Or continuing at a later stage?
Get their commitments in writing.
10. What does it take to graduate?
What is required to graduate from, or to be certified by, your school? If the coach training certification just means completing the course with no assessment or testing, then it is not really of much value.

To qualify for certification, the life coaching training needs to include some sort of evaluation of your skills, either through assessments during the course or at the end, before certification is awarded.

More Steps To Get Control Of Your Life Coaching Training
Add any questions of your own to this list that you think are relevant.
Be willing to keep asking questions until you get satisfactory answers that will enable you to enrol with confidence.
Ask me any questions you think are important in the next section of this page and I will answer.
Got A Question About Your Life Coaching Training?
If you have a question, experience or advice to share please do so here.

Your questions will be answered and any advice will and support others on their path to professional coaching.
What Other Visitors Have Said
Click below to see contributions from other visitors abaout life coach certification