Which Life Coaching Association Should  You Join?
Learn why you should  join an independent life coaching association.  And which one  is going to offer the best benefits for your professional career?
Why Join A Life Coaching Association?
Being a new coach out on your own can be lonely, especially if you work from home and do lots of skype or telephone coaching.
However that loneliness can disappear if you join a life coaching association.
These associations provide a community for their members as well as, in many cases, independent credentialing of coaches and accreditation of courses.
Most associations have a good online presence, so even if you don't live near enough to go to meetings or conferences in person, you can still be visible and involved.
Many associations have local or chapters that meet regularly, maybe by conference call,  or hold annual conferences. This gives you the opportunity to make contact with other coaches and keep up to date with the latest methods and innovations.

Get very clear on the benefits you want to receive by belonging to a life coaching association before you commit to membership as membership benefits can differ considerably from one to another.
Some offer credentialing whilst others are purely forums to bring coaches together to exchange views and information.
It is particularly important to check that organisation is, in fact, independent and not in fact a coaching school.
Some schools use words like "federation", "association" and "institute" in their name, to give them assumed credibility, which can be quite misleading.
Please also  add any Life Coaching Associations you would like to recommend, using the form at the foot of this page.
Six Tips To Find The Best Association For YOU!

I hope these six tips will help you decide what you need from a life coaching association and make a good decision about which one you should join. 

1. Is it a truly independent association?

Independence is the key! Make sure the organization is truly "independent" and is not not just a front to lead you to a specific coaching school. Just because it has the authoritative sounding "institute" "federation" or "association", in the name, there is no guarantee it is actually an independent association for accrediting courses and credentialing coaches.  
Having said that, some independent life coaching associations do offer the occasional training but it is not their main focus.
2. Do they help market you as a coach?

For instance some associations, including many branches of the International Coaching Federation (ICF), do not give their members the opportunity to have their profile listed in the coach referral section of their web site unless you are credentialed as a coach through them.
Other associations may allow you a profile as a coach without their credentialing so you do at least get a chance to be seen and contacted by prospective clients as soon as you join. 
3. Is there a referral system to bring you clients?

Leading associations often have a system for prospective clients to be given as leads to member coaches.
The prospect types in their coaching requirements (personal, business, corporate, health, etc.)  and maybe the fee they are prepared to pay, and the system automatically sends their information to several coaches who match those requirements. 
It is then up to the coach to contact the prospect to see if they are indeed a good coaching match.
Of course you can't rely just on a life coach association referral system so it's worth taking a look at the book Unstoppable Referrals by Steve Gordon which has some really encouraging reviews.
Having said that several qualified prospective clients came to me through the ICF referral system so belonging to a life coaching association that has this benefit can be an effortless way to market.
If the association you are considering joining says it has such a system,  make sure you check whether the benefit is for all members or just for the coaches the association itself has credentialed.
4. Does the association offer mentoring or supervision?

A great benefit of an association is to have a list of qualified mentors or supervisors. These are experienced coaches who coach candidates to achieve their credentialing aspirations.
Many coaches specialize in running affordable groups to prepare coaches for credentialing by their organization. You can read more about Coach Mentoring and Supervision.
5. How restricted is the membership?

Is the membership you are considering open to associated disciplines such as training or counseling at any level, or even to people or organizations who simply have an interest in coaching?
This can be a real advantage in broadening your contact base, maybe for networking, alliances and cross referrals. And on that subject have a look my networking tips for coaches.
6. Are the community benefits what you need?

What sort of community benefits does the life coaching association offer that are important to you? For instance The Christian Coaches Network will join you with other coaches with a similar focus.

Are you interested in taking part in chapter meetings with speakers, chat rooms, blogs, conferences, ongoing skills training or free or discounted indemnity insurance?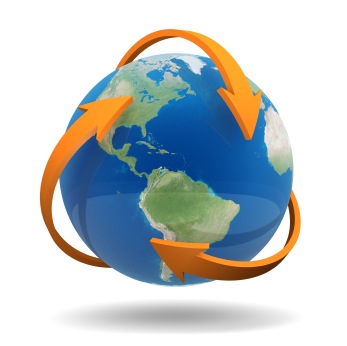 This is especially important if you are in a country that is new to coaching or has it's base in a country other than where you live.
Find out if the association caters for an international community with webinars and online communications.
Also check if the member benefits offered apply to the country you live in?
For instance, I've come across a very attractive discounted indemnity insurance as part of the membership package that did not apply unless you were a resident of the association's country of origin.
Check Out These Independent Life Coaching Associations 
International Coach Federation

Founded in 1995, the International Coaching Federation (ICF) is possibly the best known and most independent and credible of the life coaching industry associations.

It's founder, Thomas Leonard, the originator of the modern concept of life coaching, was the first to come up with a code of ethics and credentialing for coaches.
His book The Portable Coach  first published in 1999 is one I constantly referr to for myself and my clients. Have a look at the reviews. The more recent recent are further down the Amazon page.
Based in the US, the ICF it considers itself to be the global voice of coaching and sets the highest benchmark standards for pure life coaching in the profession (that is no mix with consulting or mentoring) with three levels of credentialing - Associate, Professional and Master.
The ICF credentialing process is one of the most stringent but really counts for credibility in the coaching market place.  
If a training course is accredited by the ICF, you are pretty safe in assuming that it will deliver the goods but still check out it is the right training for you by using the information I give in Choosing a Life Coaching School and Training
Association for Coaching
Based in the UK, The Association for Coaching is an independent non-profit organisation with the goal to promote best practice, raise awareness and standards across the Coaching industry. It credentials coaches and accredits trainings and offers many benefits to its members.
This association also encourages associate membership from individuals and organisations involved in the coaching industry so is not limited to professional coaches.
The Asia Pacific Alliance of Coaches
Based in Singapore, The Asia Pacific Alliance of Coaches (APAC)  a  fairly new  and strongly allied to the ICF.
It provides a forum, community and opportunities for coaches working in Asia to connect with each other and work towards strengthening the presence of coaching in the region.  The APAC has already held several very well attended conferences.
Association of Coaching Supervisors
The mission of this association is to add value to the industry by exclusively focusing on coaching supervision as compared to mentoring and to actively promote the role of the supervisor. It's founder Edna Murdoch has published a book on the subject.
Read more about how supervision has become an important coaching niche for experienced coaches. 
The Christian Coaching Network
The CCN is aligned with industry-standard coaching organizations such as the ICF, IAC, etc., but it is also  faith-based for those who want to include a Christian focus in their coaching. 
A member of the CCN submitted this information to Life Coaching Professionally, for inclusion in this list and I was pleased to do so.
International Institute of Coaching and Mentoring
The IIC&M (originally the Executive Coaching Institute - ECI) was formed in 1999 as a not-for-profit organisation to be a force for good in coaching.  It was founded by and continues to be run by professional coaches. It's focus is building, maintaining, raising awareness, and working to promote best practices for coaching internationally, while providing value added benefits to its Members.
It has several levels of membership and accreditation the website is worth exploring as it sets out very clearly the requirements for each level.
That's  my list so far.  And here is more information on the things you need to do in your exciting journey to Become A Life Coach.

Is there A Life Coaching Association
You think should be added to this list?
Are you a member of an INDEPENDENT Life Coaching Association that really benefits you and you LOVE being a part of?

BY INDEPENDENT, I mean one that is not attached to a Life Coaching school.

If it's not on the list, let me know about it and I will review it for inclusion.
---
Recent Articles
Recent Posts
Mar 02, 19 05:21 PM

One size doesn't fit all when it comes to your life coach marketing plan. So choose a way to market your coaching that will give you results without stress.

Feb 26, 19 12:00 AM

Frustrated with trying to build a coaching website and actually getting people to view it? Frustrated with finding that "free" website is not really free but involves lots of extras if you want it to…

Feb 11, 19 07:17 AM

Do you think face to face is the best way or do you want to explore the benefits of phone, Skype, Zoom or some other platform. In this online world it's good to be able to offer more than one way of g…