Creating An Efficient Life Coaching Office At Home

Page Summary
.A well set up efficient and comfortable life coaching office will do wonders for your productivity and general wellbeing. This article provides guidelines for creating an attractive work space that supports the growth of your coaching business.

Creating Your Ideal Life Coaching Office Space
Having a pleasant and comfortable place to work from is really important, not only for your well-being but your professionalism as a coach. ideally the space you set up should , not only be productive, but somewhere that can't be constantly interrupted by family activities, visitors or external noise.
So unless you have a completely separate room to work in (with a door that shuts   take into account the times you are going to coach to minimise the possibilities of disruption (eg: children coming home from school).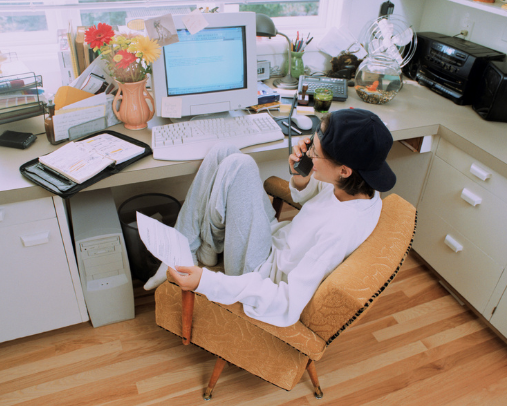 There is nothing worse than reaching a critical moment in a client session and suddenly a family member rushes in or the cat jumps on your lap. Of course, educating the family around interruptions is one solution here.

I know a  dedicated room may not always be possible but if you have face-to-face clients that you see at home, do try to have somewhere that can serve as a professional looking space, even if it is a corner of the living room or well tidied dining room table (away from the kitchen).  This will help them feel confident in your professionalism. 
Apart from the obvious benefits of being in your "own" area where you can concentrate on work, a simple reason for a dedicated space is the storage of reference books, client files and other admin items like invoices and tax documents..
No space for a life coaching office set-up at home
If none of this is possible in the home situation, see if there is an outside venue with a private, quiet area such as a cafe or a hotel lobby, even a park where you could do your face to face coaching. There are also co-working spaces such as Liquid Space in many cities internationally where you can hire out office space by the hour. Or, if appropriate, you could arrange to go to the client's home or their workplace where they may be able to book a meeting room. 
What about budget?  I'm not going to attempt to give you a dollar amount that you will need to spend on your life coaching office setup because there are so many variables and choices.  My aim here is to discuss the items you need to get your home based coaching practice off to a good start and give you some options to explore

---
Choosing Your Life Coaching Office Furniture
Desks and Chairs
Obviously, you'll need a desk or table and a comfortable chair with good back support. Both need to work together to support your body, ergonomically. 
I can't overstate the importance of a good chair with a desk at the right height.  Prolonged sitting on a chair with poor support and a desk at an unnatural height can cause muscle stress and pain, distracting you from the main task at hand. I can speak from long, personal experience about this!
The advantage of a variable height standing desk
I've never regretted in investing in my Varidesk which I often use for meetings, when coaching by phone or Zoom and for working on my website.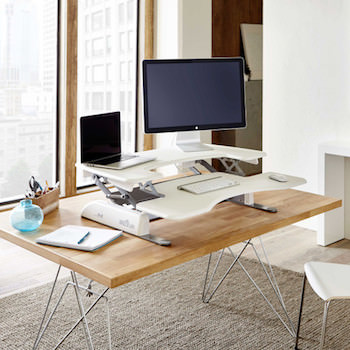 This is adjustable standup desk comes in a complete unit or can sit on top or a desk or even a dining room table. 

My Varidesk has done wonders for my back problems. Research has shown that, back problems aside,  standing up to work some of the time rather than sitting at a desk is a healthier option. You can even get them with a  treadmill accessory. though somehow I can't imagine using one whilst coaching!
 Of course, you can always sit down if you want or need to, which brings us to...
Chairs
If you are going to coach at a desk or table, at the very least make sure you have a chair that can allow you to sit at your right height. Your body will thank you for it. Again you can search for and adjustable one on Amazon or check out your local office furniture store. 
If, like me, you have back problems, you may find a comfy supportive armchair may work for your remote coaching, maybe with a footrest. You can prop your laptop on your lap if you need it to take session notes. 
Choosing Your Computer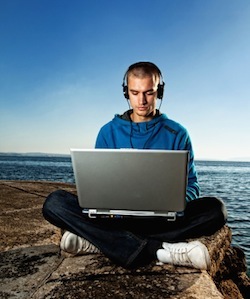 These days a good computer is an essential piece of coaching equipment. You can choose between a Mac or a PC and a laptop, desk model or iPad depending on your preferences and your lifestyle. 
And even if all your clients are local and you coach face to face, having a relatively fast and trouble-free computer or mobile device you can send clients emails and processes from, is a must to keep in easy touch with clients.
You might also think of getting your interstate or international clients to join WhatsApp so you can communicate with them for no charge (at time of writing)

However, an inexpensive Notebook or trying to get by with your Smartphone may turn out to be a false economy. This is  because these little computers  are often slow and have limited ability to process several applications at once, or have insufficient storage for records. 

A Hardrive will avoid computer disasters

If you are keeping your records on your computer, please please invest in a hard drive and back up regularly. I kept a folder for each of my clients where I stored all communications with them including agreements. Losing these records would really have been a big problem.

So for peace of mind if you computer crashes - as they do - investing in a backup device  and using it regularly saves this from being a disaster. This Seagate Portable is reliable and both Mac and and PC compatible.

Computer cameras
Whatever computer you choose, make sure it has a camera so you and your clients can see each other and have virtual face-to-face contact if you coach by Zoom or Skype. 
When you are coaching online using Skype or Zoom, the background the client sees is also important.  Don't sit with your back to a window with light shining in as it will swamp your camera.  Also, ensure the background that they can see is tidy and reflects your professionalism. 
A Headset Can Make A Huge Difference To Your Coaching 
Hurray for Headsets! Coaching for hours on a with a phone in your hand or jammed in your shoulder will not only give you a crick in the neck but can be very uncomfortable and tiring.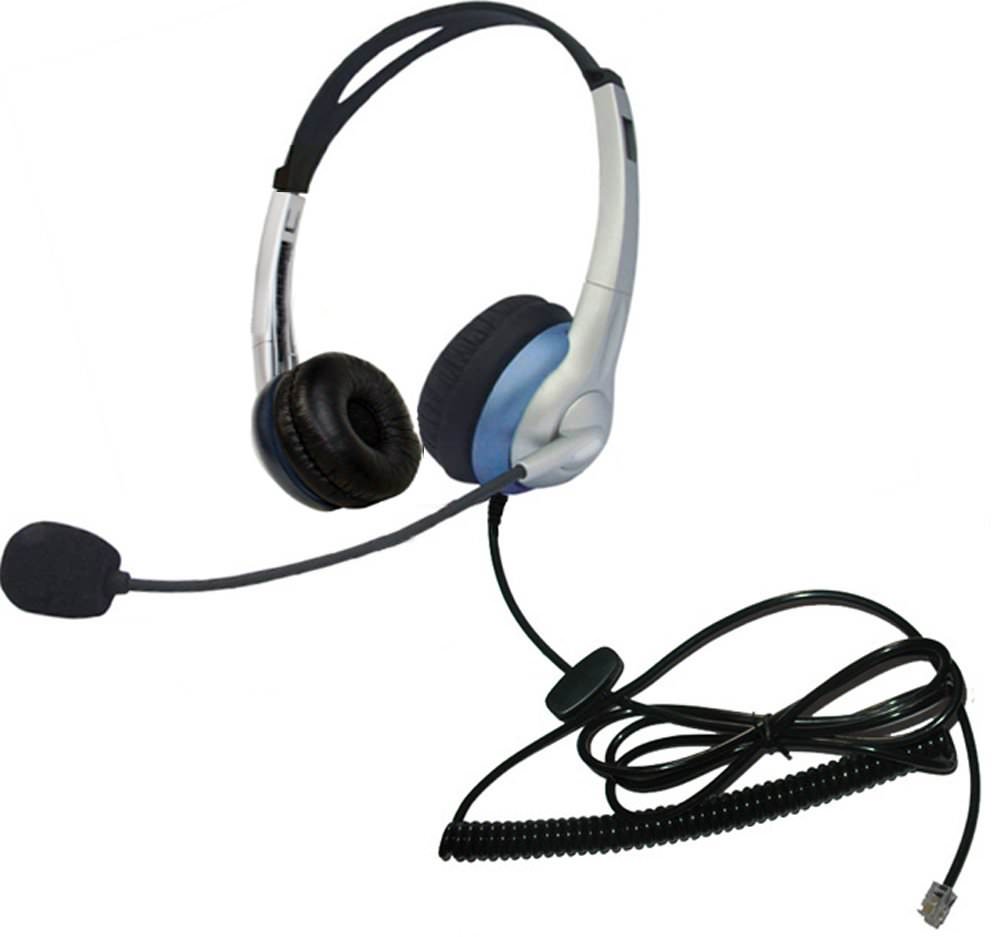 So a headset is a great investment in your work from home office setup, if you coach by phone or online. A headset can also be useful for attending or presenting webinars.  It's also a good investment if privacy is sometimes an issue. Only you will be able to hear what the client is saying and it will also minimise extraneous noise, such as the dog barking or traffic. 

The headset will also keep your hands free to look at records and make notes as you go.
This is just one of the many styles of headsets available on Amazon - there are loads more to choose from.  Make sure the one works with your landline or mobile device.

Phones, Faxes, Copiers And Scanners 
Phones
It goes without saying that you will need a phone when you start a coaching business. However the type you have, land-line or mobile, will again depend on your work and life style preferences. A national or international client base can be very phone intensive, so whatever you do, ensure you have a high quality phone connection that doesn't keep dropping out. Which brings us to...
Fax/Copier/Scanner

 A fax machine on it's own these days a bit of a waste of money.
However, acombination fax/copier/scanner is a good investment as it is very useful to be able to scan your signature or copy a page of handwritten notes to upload to your computer. 
You can also scan any relevant information such as an agreement or coaching process and email it to the client.

You can buy one for as little as $50 on Amazon. However paying a little extra will most likely get you a known brand with a good guarantee such as the Canon or something similar, which was affordable completely adequate. Ensure the model you choose works seamlessly with your type of computer - a modern one will!

---
So now you know what you basically need to set up your home office. Have a look at the related pages below for more ideas as you get started on setting up your coaching practice.
Click the image to explore and purchase my eBooks

Books by Wendy Buckingham