Should You Offer A Trial Free Life Coaching Session?
Many coaches offer a 'try before you buy' free life coaching session as one of their marketing strategies. The rational is that people don't fully understand what life coaching is. 
They need a free trial sessionto experience working with a coach and how it is going to benefit them, so they are inspired to make a decision to go ahead.
There are two schools of thought around whether this trial session is a good idea, or not,  so let's look at the advantages and disadvantages of this approach.

The Pros And Cons Of Providing A Free Life Coaching Session
The Pros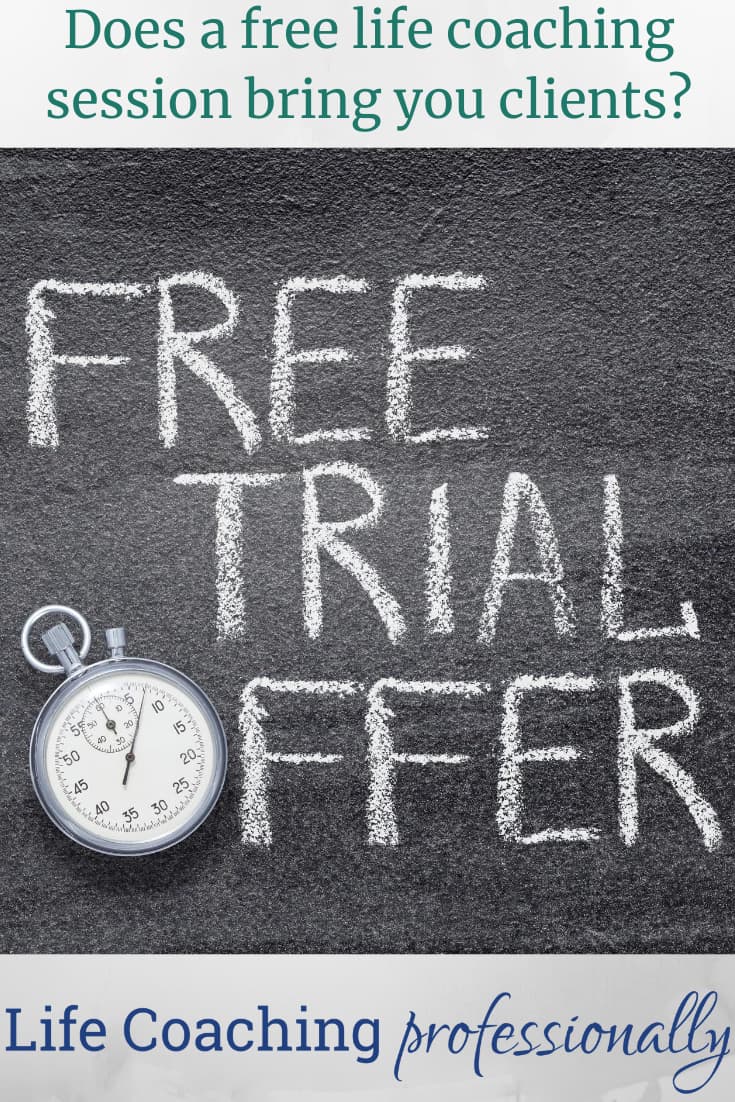 On the pro side, an introductory free life coaching session does give the prospective client a chance to discover what they want to achieve, a real taste of what is to come and be inspired by what they can achieve if they go ahead.

It also shows that the coach is willing to give their time freely to ensure they are a good match with the client rather than pressure them to sign up.

The Cons

The con is that, unless the lead is really well qualified, and the session timed and carefully structured, you can waste a lot of time with people who simply want a free session, to benefit from your coaching skills but have no intention of engaging you and paying for coaching.
Or, as I found on several occasions – the free session turns out so well, the prospect thanks you profusely, decides they are clear on their path forward and don't need any more help and disappear never to be heard of again.
Great for the ego, but not great for both your spirit and your pocket. 

Coaching is about earning a living as well as being of service and you may feel out of exchange and a bit resentful for the time and expertise you have given them.

My only suggestion if this happens is to keep in touch to see how they are going and tell them you are always available if they want to have some more coaching. (paid for of course:).
The "Discovery Session" Solution
The secret to a successful introductory free life coaching session, is giving the prospective client a taste of you and your coaching and leaving them convinced that there is more benefit to be had by engaging you as their coach.
It's a tricky balance if you are committed to helping others become more successful and are likely to get carried away!
A compromise is that many coaches now qualify the idea of just a "free session" as an offer of a free "assessment"  or "discovery" session usually for no longer than half an hour, but that's a matter of choice.
This purpose is to explore what the prospect wants from coaching, explaining how your coaching programs work, answering any questions/considerations and giving them just a taster of how you coach.
It's also an opportunity to discover if you are a good match for a coaching relationship. Find out more on how to organise a successful Discovery Session and questions and hints on making it work to enrolling clients.