Should You Offer A Trial Free Life Coaching Session?
Many coaches offer a 'try before you buy' free life coaching session as one of their marketing strategies. The rational is that people don't fully understand what life coaching is. 
Therefore, they need to experience working with a coach and how it is going to benefit them, so they are inspired to make a decision to go ahead.
There are two schools of thought around whether this trial session is a good idea, or not,  so let's look at the advantages and disadvantages of this approach.

The Pros And Cons Of Providing A Free Life Coaching Session
The Pros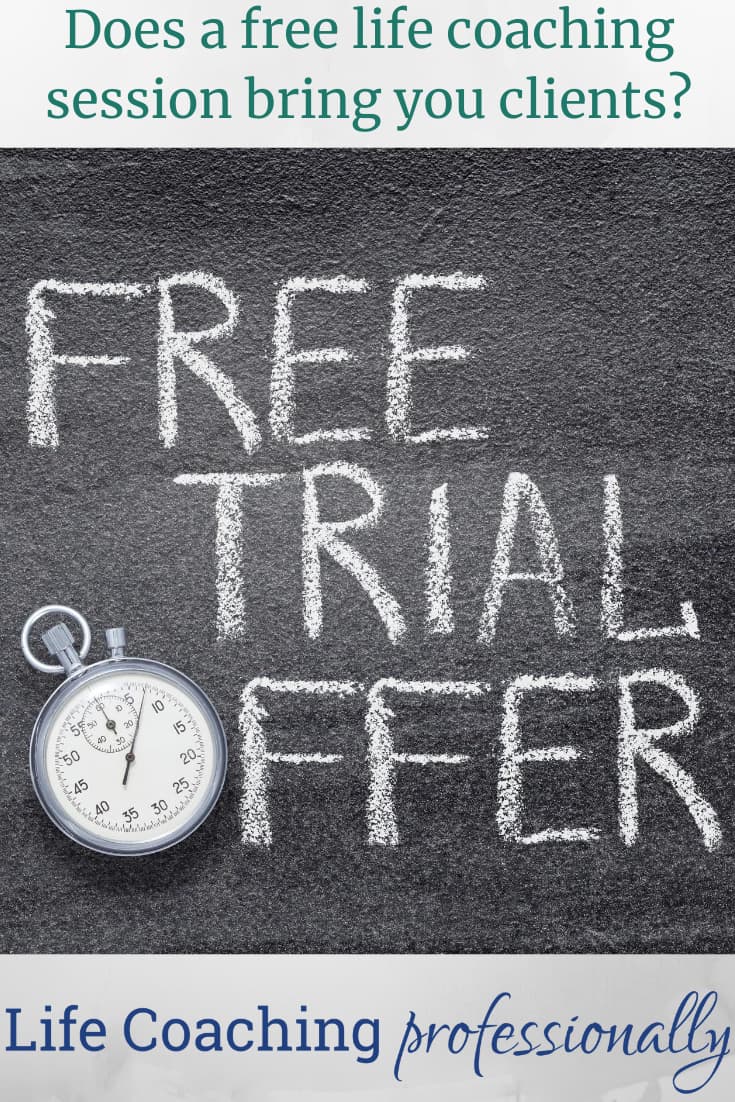 On the pro side, an introductory free life coaching session does give the prospective client a chance to discover what they want to achieve, a real taste of what is to come and be inspired by what they can achieve if they go ahead.

It also shows that the coach is willing to give their time freely to ensure they are a good match with the client rather than pressure them to sign up.

The Cons

The con is that, unless the lead is really well qualified, and the session timed and carefully structured, you can waste a lot of time with people who simply want a free session, to benefit from your coaching skills but have no intention of engaging you and paying for coaching.
Or, as I found on several occasions – the free session turns out so well, the prospect thanks you profusely, decides they are clear on their path forward and don't need any more help and disappear never to be heard of again.
Great for the ego, but not great for both your spirit and your pocket. 

Coaching is about earning a living as well as being of service and you may feel out of exchange and a bit resentful for the time and expertise you have given them.

My only suggestion if this happens is to keep in touch to see how they are going and tell them you are always available if they want to have some more coaching. (paid for of course:).
The "Discovery Session" Solution
The secret to a successful introductory free life coaching session, is giving the prospective client a taste of you and your coaching and leaving them convinced that there is more benefit to be had by engaging you as their coach.
It's a tricky balance if you are committed to helping others become more successful and are likely to get carried away!
A compromise is that many coaches now qualify the idea of just a "free session" as an offer of a free "assessment"  or "discovery" session usually for no longer than half an hour, but that's a matter of choice.
This purpose is to explore what the prospect wants from coaching, explaining how your coaching programs work, answering any questions/considerations and giving them a taster of how you coach.
It's also an opportunity to discover if you are a good match for a coaching relationship. For more guidance in this area, read my page with a Coachability Test To Weed Out Dud Life Coaching Prospects.
Three Rules For A Successful Free Life Coaching Session
These are my suggested rules to ensure minimise the chance of wasting your time with  discovery sessions that go nowhere.

1. Insist they fill in a brief pre-session questionnaire.
You will then have a good idea of what they would like to achieve from coaching. Include a few other questions to make sure they are really interested and coachable. Of course some prospective clients  who book a discovery session may balk at this but I was willing to take that risk.
I've included a sample of the questions I used at the end of this page.
This is especially important if you are offering free sessions of any type via the internet.  So many people are happy to "click here for a free life coaching session", because it is free without any real intention of being coached long term.

In fact they may be hoping to get all the coaching and solutions to their problems they need from that one free session.
2. The session is strictly timed 

The prospect is aware before-hand how long  the session is going to be, and what is going to be covered.

3. They are aware of your coaching packages and costs

In my pre-discovery session questionnaire, I ask them if they have read about the coaching packages I offer and what they cost.
Not everyone agrees with this as a strategy but I found it was best to be upfront rather than get to the end of the discovery session and then have to have the money conversation. You can read more about whether it is good to publish your fees or not by following the link on my page about setting life coaching fees.
Which brings us to.....
Questions To Ask Before A Coaching Discovery Session
I put this Discovery Session questionnaire together as I felt it was important to make sure the person was genuinely interested in being coached and weren't treating  it just as a free life coaching session. You might have your own questions to add in or leave out but these questions will give you a starting point. 
I sent this to them before the planned session time and you are welcome to copy or adapt mine  for your own circumstances.
Hi ..........
I've diarised and put up to 30 minutes aside for you at () am on () so if for any reason you can't make it or need to change the time please let me know as far in advance as you can.
I want us both to get the most from this Discovery Session so there are a few things I would like you to think about and answer as best you can.  It's in Microsoft Word, so just fill in the answers to the questions on the form below and email back me before we talk at (email address).   
1. Clarity:
Do you know what result you want to get from being coached?  It's OK to only have a rough idea on this one.  I'm here help you get specific.
2. Open minded:
Are you willing to explore and "try on" new concepts, beliefs and different ways of doing things? 
3. Therapy?
Are you currently in any sort of therapy? (This may not affect whether you can be coached but I need to know so there is no conflict with your therapist). 
4. Have you been coached previously?
If so, how did you find it and what was the result. 
 (Be wary of the prospect who owns up to having had several coaches and was not happy with the results with any of them)
5. Issues and challenges:
What are your most pressing challenge/issues at this time? 
Personal
Work
6. Investment:
Have you read about my Flexible Coaching Packages so you know about the choices I offer if we decide to go ahead with coaching? (include a link to your coaching packages and charges or attach a PDF)
7. How we communicate:
Are you open to being coached by phone/Skype/Zoom?  I coach many of my client this way and find this brings them the same success as when working face-to-face with clients. 
I hope I have given you enough food for thought on how to introduce prospective clients to your coaching.  Here's to your success!