How To Become A Motivational Speaker And Promote Your Life Coaching
Updated August 17, 2021
Page Summary
Becoming a motivational speaker who focusses on coaching related issues can be a real boost to building your life coaching practice. On this page you'll find loads of information and tips for creating an effective, engaging and trouble-free presentation both in person and online.
5 Ways To Gett Known As A New Motivational Speaker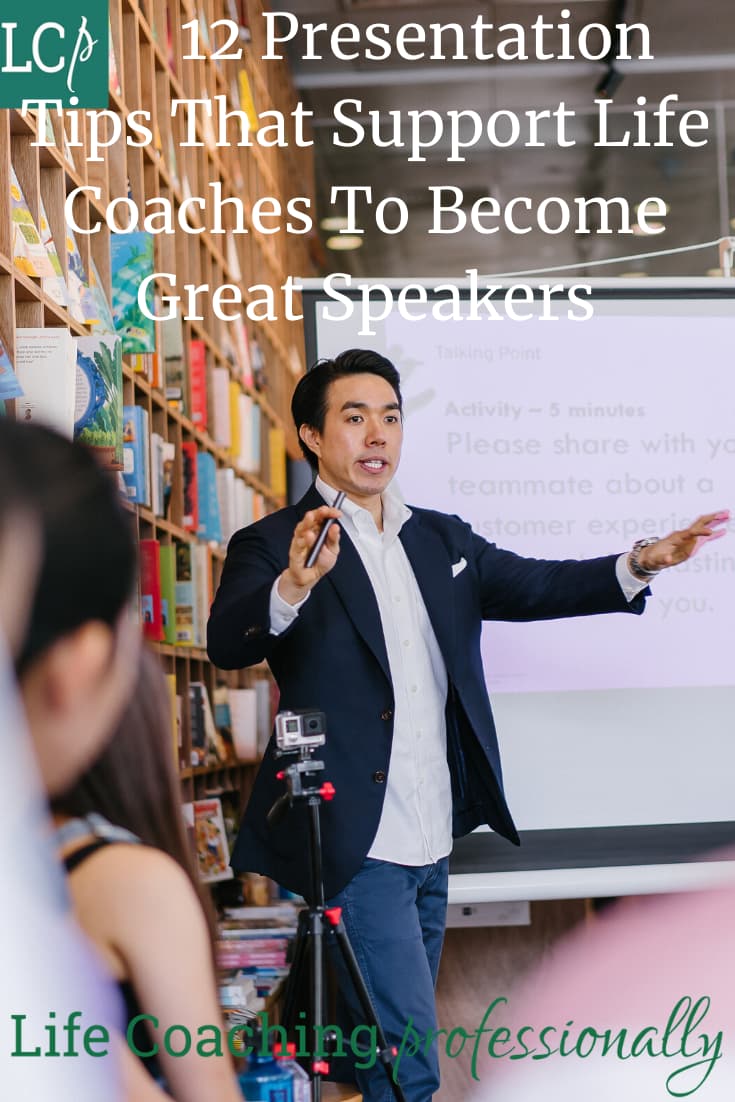 There is a certain kudos that comes your way when you take on a stage persona.
Whether it's a face to face live audience, networking group, conference, tele-class or online video platform, those that come into contact with you that way will have a different sense of 'who you are'.
If you get it right you have credibility almost from the moment you start to speak!
Even better, if you deliver an inspiring, engaging presentation, you will soon be recognised as an articulate expert and be in demand as a presenter for all sorts of occasions - as well as attracting committed new clients. 
There are numerous opportunities to speak about your coaching speciality or niche. Here are some ways to go about finding them.

1. Networking
Networking functions, community groups, in-house business "lunch time" events and conferences and seminars all are on the look out for coaching presentations either in person or online. 
They may not always be looking for content related to your specific niche or speciality but there is no harm in seeing how you can tailor your talk to relate to the particular audience.
2. Present For Free
Most of your early coaching related presentations, such as a guest speaker for community groups or networking organisations - even conferences - will inevitably be free. The payoff will be the opportunity to creatively showcase your coaching services.
Once you have really built your confidence and have a few successful events under your belt, you will be able to demand a fee for presentations to company groups or at commercially promoted conferences.
3. Practice, Practice, Practice
If you want to really start delivering life coaching presentations, practice on any audience that will have you. You may not get clients and you almost certainly won't get paid but these occasions are a great opportunity to hone your speaking skills and have "learning experiences" that don't matter too much and help you grow.
4. Speaking Bureaus
 As you become more confident and known as a great speaker, as well as a life coach, you can approach various speaking bureaus so they can check you out and, hopefully, include you in their stable of speaker they recommend.

5. To Market To Market
Don't forget to promote the fact that you are a speaker, with an outline of the presentations you give. Use  your social media profiles, your website and even your business card.  And, if possible, include any testimonials you have from clients that might be relevant to giving a presentations.
10 Way To Confidently Become A Motivational Speaker

1. Handle public speaking anxiety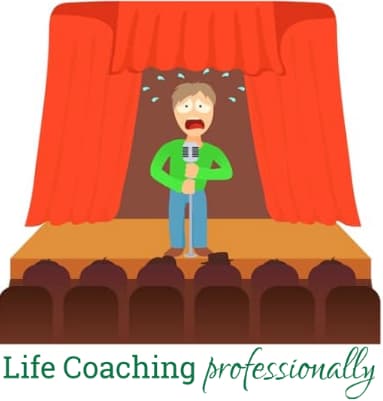 If you suffer from public speaking panic - it terrifies you - you're not alone! Some studies even report that the fear of public speaking (Glossophobia) is greater than the fear of death!
So, to overcome the fear, your first step is to get some confidence and presentation skills training!
One of the best ways to get good advice and support is to join one of the many Toastmasters speaking courses.
Due to the Covid-19 pandemic, Toastmasters are holding online meetings around the world so it is a great time to explore the opportunities.

In Australia, the local branch of Rostrum also helps an aspiring speaker to develop confidence and skills. It's also worth checking out the National Speakers Association in your country. The NSAprovides a wonderful platform to get known as a motivational speaker and also network among like-minded professionals.

2. Tailor your presentation to your time slot, but be flexible

Make the subject of each of your presentations as a life coach and motivational speaker can be tailored to different time slots.  It can be nerve wracking for you and the event organiser if you finish too early, or have to be cut short because you have run out of time.
If you do finish early you can always fill in time by calling for questions or shares (and praying that you get some!)
At a networking breakfast or lunch you will most likely get between 20 and 40 minutes to get your message across, whereas in a conference or seminar you might get 45 minutes to an hour or even longer.
Please, please remember to ask when you are booked to speak, how long they want you to speak for – and be prepared to have less if the other activities in the function run over.
It is always a good idea to ask your host,  just before you stand up "how long have I got?"   This will enable you, if necessary, to edit the content to the most important points.
Always remember to allow enough time at the end to promote yourself, and any products you are offering. 
Conference timing are usually well organised and stick to the stated time for your talk.
To compensate for the eventuality that you may not get to cover all the points you planned, have a value-adding handout to leave with the audience on the key points of your presentation. See more about hand outs in Tip 3.
3. Have a value adding handout
Have a value adding handout for them to take away and remember you by after the presentation has ended. 
Make a list of tips or a special offer.  Make sure it includes your contact details and website or business FaceBook address. (Obvious I know but you'd be surprised how often it is missed!)
4. Develop some basic themes around the benefits of coaching

One of the first steps to take to become a motivational speaker is to develop two or three presentations that demonstrate the benefits of coaching and get the audience involved.
But don't just stand up there and waffle on about coaching and how great it is. That is not the way to inspire your audience to work with you.
I usually presented using a theme related to the life skills and goal planning information in my book and, within the time frame given, base the presentation on three to five of the key points.

I recommend you pick a favourite coaching process or two around your niche and build your presentations around them. Include personal stories and relate experiences you have had with clients (anonymously of course) and leave the audience with some valuable tips they can use in their own lives. 
5.  Keep your audience engaged and involved

One of the best techniques to successfully motivate your audience is to get the them to participate, even if it is only a show of hands in answer to a question. Or you can ask them to share with the person next to them on a particular topic you have spoken about.

Consider starting your presentation or workshop by telling the audience briefly what you are going to cover so you get them interested in what is to come. Tell them they can either ask questions as you go or you will take questions at the end of the presentation.

However, a warning: One of the dangers of saying you will take questions during the presentation is that you can get off track, caught up in a discussion and run out of time to get all your message across. So ask for questions with one eye on the clock and be OK about limiting the number of questions and telling the audience you need to move on.
6. Avoid "Death by Power Point"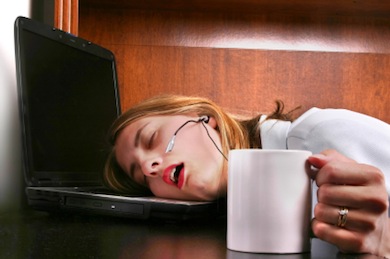 If you use PowerPoint don't just stand there and read off your PowerPoint slides - that is absolutely not the way to engage and motivate your audience.
Make sure your PowerPoint presentation is used just as a prompt, an anchor or a summary and is interesting to look at, with graphics or pictures rather than just words.
One of my most successful presentations was at the end of the first day of a conference in Melbourne, late in the afternoon, when the audience was tired and literally suffering "death by PowerPoint",  after numerous informative but boring presentations.
I had been invited to talk about networking (I had framed it up as "Networking as a Tool to Achieving Your Goals"), and got the audience to get up, move around and interaction with each other.

Even thought my information was pretty basic, and not even that much on topic, I got the highest speaker rating in the feedback forms.  And if got me new clients!

7. Customise your presentation to the audience

When you first approach a networking or business organisation you would like to present for, find out what sort of subjects their members are requesting information about.
 If you know what they are looking for, you can frame up your proposal to match and adapt your content to suit. Get creative and you'll discover many aspect of life coaching can be customised to suit almost any industry or situation.
Before your actual presentation, take the trouble to familiarise yourself with the profession or industry so you can drop in information that relates to your audience. It shows you have done your homework about them and are not just giving a rote presentation. 
8. Get feedback and testimonials for your presentation

Feedback is an essential ingredient on your journey to become a great motivational speaker.
Ask the organizer of the speaking event to give you a written testimonial about your presentation.
If the event is small, ask participants to write comments or testimonials on a supplied sheet that you hand out during your live presentation. They can be left on the seat and picked up afterwards. The comments can be anonymous or people can leave their name. (N.B. You may need to have a supply of extra pens or pencils with you each time.) See also Tip 11.
Larger, corporate events are often given a list of questions to fill about their satisfaction with the whole event and each speaker. Make make sure you have an arrangement to get a copy of these as they will be invaluable as feedback on what you may need to work on to improve your speaking. 
Wherever and however you get complimentary feedback, get into the practice of getting permission to add it to your testimonials. And don't be too upset if someone didn't like you - you can't please everyone - it's the overall rating that matters. 
9. Get contact details of your audience
Wherever you can, build your contact list to include those who attend.
You will obviously have the contact details of the person who organised you to speak but you may also want to add the members of a networking group or community function to your mailing list so you can keep in touch. 
One way to do this is to offer a prize such as a book or a free session and draw the winner from business cards you have collected.  I'd do this pretty close to the beginning of your presentation so you don't forget.  After the presentation you can send out an email saying how great it was to have them as an audience and inviting them to join your mailing list/newsletter. 
And always remember to always write and thank the organiser for inviting you!
10. Mingle with your audience
I have observed many great speakers doing this. If you have the opportunity, mingle and chat with the audience before you speak. This has two advantages.
They become familiar with you and have a different relationship with you once you are on stage.
You become a little familiar with who they are and where they are coming from and can even refer to them during the presentation.  
Take the opportunity to mingle after the event, as well. Have a table setup before your presentation begins, at the back of the room or in the lobby, with your products and information. This will give you a base to work from and provide a central point to tell attendees where you will be waiting for them.
You can also have all the information on this page, and more, easily on hand to refer to, in my book  How to Use Speaking To Promote Your Coaching.
Check it out as, for the price of a couple of cups of coffee, it can become a valuable addition to your coaching library and a great guide to making presentations about your coaching that will raise your profile and set you up as an expert.
6 Tips To Create A Trouble Free Event
Ask any speaker how their presentation went and, in many cases the "glitches" were not caused by their content or delivery, but by peripheral things that went wrong in the room and could have been avoided.  
Often these glitches are invisible until they occur. Seemingly insignificant things such as how room is set up and how handouts will be distributed, will greatly affect how the audience receives you and how you profit from your speaking efforts.
Here are five seminar preparation tips that can save the day on your way to become a motivational speaker, specifically for live, face to face events.
1. Create your own master checklist

List everything you need to be provided for you or to take with you. Things like flip-charts, screens, microphones, Wifi, products to sell, handouts, spare pens, business cards, microphones, parking - yes parking and so on. Never assume what will be provided - including parking. Always check with the organiser. Avoid the "Oh I thought you were bringing your own." scenario.

2. Confirm attendance numbers

Confirm the expected number attending the day before so you have enough handouts. Always take a few extra handouts just in case. 

3. Check on how the room is set up, well before you speak

Arrive early so you can check on things like the position of the lectern, glare on a screen and the seating configuration. Make sure you will be visible from all seats.  Don't be afraid to ask for things to be changed. 
If possible, visit the venue in advance and test-run your equipment, microphone, audience microphones, screens etc. And, maybe more importantly, if you are relying on the equipment being offered by the venue, make sure that is working properly.
4. Make sure you and the audience can  hear each other
A common assumption when you first start speaking is that you will be clearly heard. However, as I learnt the hard way, the PA systems provided by venues can be notoriously poor and unreliable - no matter how many assurances the organisers give you.
When we aren't used to presenting to a group we tend to assume that the sound is OK. But when it's not, it can throw you off course very quickly. A poor sound system will destroy your brilliant presentation and deflate your confidence in a flash.  But it does not need to be that way.
Before your presentation, do your best to do a microphone check with the organiser and ensure you can be clearly heard in the back of the room. If possible do this well before the actual event.
Conversely, make sure you can hear your audience when it comes to question time. This may sound obvious but in a fairly big room with a largish audience this can be a problem unless there is a good public address (PA) system and someone is running mic's to the questioner.
If there is no microphone for the audience, get into the habit of repeating the question for the rest of the participants. They will love you for doing this. Have you ever been in an audience and not been able to hear both the question and the answer?
If you are serious about using speaking as a marketing strategy and want to maintain some level of control around how well you are heard, I recommend investing in a modest PA system of your own such. You'll find a good selection of them on Amazon and other online stores. 
5. Have some help

If possible, have someone come with you as a support. This person can:
Handle parking the car if needed and help you unload.
Help with the set up.
Find what's missing and resolve any related issues.
Manage the distribution of any  handouts.
Handle any product sales so you are free to talk with people.
Just be there for you, if you have last minute needs . 
6. Avoid mealtime distractions
If you are making your coaching presentation during a function that includes a meal, ask the organiser if they can avoid having you speak whilst the audience is eating. At least, ask them to wait until there is desert and coffee. It can be very difficult for a motivational speaker to be effective over the clinking, clanking and general serving activities 
If you don't feel like eating before speaking, (I never do!) don't let the kitchen dump food down in front of you the minute you sit down, after finishing your presentation. People are are usually reluctant to approach you for more information whilst you are eating and the opportunity to engage can be lost.   
Become A Motivational Speaker Online: 7 Vital Tips
Speaking to promote your life coaching business is not confined to face to face presentations.
 Video, Zoom and Skype have opened up a world of opportunity, enabling you to reach an audience anywhere and even interact with them almost as you would from the physical stage.
The general principles of putting together your online webinar or conference call are the same as my suggestions above. But, of course, there are some distinctions and techniques you will need to master.
Remember, a physical audience won't usually be rude enough to walk out if they are bored or you are not giving them what they expect. However, all an online audience member has to do is click and you won't even know you have lost them.
There are particular distinctions to be aware of when speaking to an audience online. Here are 7 tips to make sure they stay with you and don't click away after few minutes. 
1. Keep your introduction to who you are brief and relevant
An online audience wants you to quickly get down to the value you are offering. You can tell ALL about you in any promotional emails you send out or provide a link to the "about" page on your website or other online profile. So don't waste time and lose your audience by telling your life story. What they want to know is how you can help them.

2. Begin by revealing the points you are going to cover
In other words future pace the group so they will stay engaged.
 This is even more useful than in face to face presentations because there are not always other visual cues to keep them engaged.

3. Let them know how you will end

Let them know there will be time for questions and some special offers at the end of your talk, such as a big discount on one of your coaching services or a giveaway of your book. In other words, continue to give them a reason for staying with you all the way through your presentation.

4. Get details of those who sign up

This may not always be possible with Privacy Laws if you are a guest speaker presenting to an online group. However, it's worth a try to ask if you can have a list of those who have signed up so you can do a follow up email. 
If you can't get a list, make an offer during the call that specifically needs those wanting to take advantage of the offer to provide an email address. For example, they need to go to a landing or website page and enter their name and email to download the item.
5. Do a test run of your equipment

There is nothing more annoying  to your online audience than having a host fiddle with camera and sound making small talk when you are waiting for them to get on with it. Do a test run before you start with a trusted support person and check it again shortly before you begin.

6. Have reliable support
If you have say more than 10 people participating in your online presentation, have a helper who can send you the questions that are appearing in the chat box. This is invaluable as a good person will only sent you the best questions to answer at the time and send those you don't have time to answer to specific website or Facebook pages, or get email addresses for later follow up This will enable you to give your full attention on the presentation without having to fiddle with the chat box.
7. Check how you look online
Make sure you audience is not looking up your nose - seriously
Take the time to test the position of the camera on your mobile or computer to make sure you are seen as you want to be seen and don't have people looking up your nose or can't see you at all because you are in front of a window or some other distraction such as a plant growing out of your head.
There is a lot of information here and I hope it will help you become an engaging speaker. Remember for the cost of a couple of cups of coffee you can purchase my book How to Use Speaking to Promote Your Coaching, and have it always on hand for easy reference. 
Click the image to explore and purchase my eBooks

Books by Wendy Buckingham