How To Become a Motivational Speaker 



And  A Magnet For Life Coaching Clients
It's a real plus as a life coach to also become a motivational speaker. You can use your presentations to inspire and attract clients.  Here are 11 important  and helpful tips on getting started, even if you are anxious about speaking, and ways to ensure  trouble-free presentations.
There is a certain kudos that comes your way when you take on a stage persona. You have credibility almost from the moment you stand up to speak.
And if you can follow through with a inspiring presentation, you will soon be recognised as an articulate expert and be in demand for all sorts of occasions - not to mention attracting new clients.  

You'll find there are numerous opportunities to speak as a life coach or motivational speaker such as networking functions, community groups, in-house work functions and conferences and groups relevant to your speciality or niche. 

Some of your presentations, such as a guest speaker for community groups or networking organisations, will be free with the payoff being an opportunity to market your coaching.  One you have become know presentations to companies or at conferences, are where you can demand a fee..
Maybe the most important tip of all, if you want to become a life coach who is also a motivational speakers, is to practice on any audience that will have you. You may not get clients and you almost certainly won't get paid, but these occasions are a great opportunity to hone your speaking skills and have "learnings" that don't matter so much.
And as you become more confident, and known as a great speaker as well as a life coach, you can approach various speaking bureaus so they can check you out and hopefully list you as one of their speakers. 
So to get started on your journey to become  a not only a great coach but an inspiring motivational speaker.

---
Motivational Speaking Tips And Tricks

1. Handle that public speaking anxiety

If you suffer, as so many do, from public speaking panic - it terrifies you - your first step is to get some confidence and presentation skills training. 

One of the best ways to get good advice is to join one of the many international Toastmasters speaking courses or, in Australia, the local branch Rostrum which helps aspiring speakers develop confidence and skills.  

And a good book to have on your shelf is The Magic of Public Speaking by Andrii Sedniev. 
Written specifically for new speakers I found it a useful reference book with lots of good information on presenting and some great gems to avoid having those "learning experiences."
2. Tailor your motivational presentation to your time slot

Make the subject of each of your presentation something that can be tailored to different time slots.  It can be nerve wracking for you and the organizer of your presentation, be it a group within a company or a networking function, if you finish too early, or have to be cut short because you have run out of time.


However if you do finish early you can always fill in time by calling for questions (and praying that you get some!☺)

At a networking breakfast or lunch you will most likely get between 20 and 40 minutes to get your message across, whereas in a conference or seminar you might get 45 minutes to an hour or even longer.
And please, please remember to ask when you are booked to speak, how long they want you to speak for – and be prepared to have less if the other activities in the function run over.

Unfortunately some hosts  at networking functions will talk on and on about their organisation and upcoming events and will be oblivious to the fact that you are sitting, sweating with nerves and just wanting to get on with it.
It's always a good idea to ask your host,  just before you stand up "how long have I got?"   This will enable you to edit your content if necessary.  And remember to allow enough time at the end to promote yourself and any products you have.
Conferences are a different matter as they are usually well organised and stick to time.
Handouts: To compensate for the eventuality that you may not get to cover all the points you planned, have a value-adding handout to leave with the audience. Maybe a list of tips or a special offer.  Make sure it has your contact details and website on it. (Obvious I know, but you'd be surprised!). See more about hand outs in Tip 4.
3.  To successfully become a motivational speaker develop a powerful basic message 
However you are framing up your presentation on coaching, it's important that your audience gets who you are and what you stand for.  
 Creating a powerful marketing message to adapt and weave into your presentation will anchor the benefit of working with you. 
Stuck on what your basic message is and how it should sound?
My colleague Cindy Schulson has a wonderful website, Marketing From Within, with lots of free information, trainings and tools to help get you there.  Her philosophy on marketing with heart is great for speakers.
4. Have a value adding handout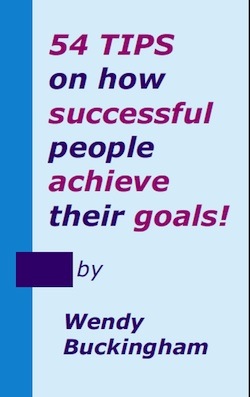 Have a value adding handout for them to take away and remember you by after the presentation has ended. 
I gave away a simple handout on 21 Ways Successful People Achieve Their Goals, a smaller version or my original tips booklet 54  Things Successful People Do To Achieve Their Goals, which was the foundation for my proper book Be Your Own Goals Coach.
5. Develop some basic themes around the benefits of coaching

One of the first steps to take to become a motivational speaker is to develop two or three presentations that demonstrate the benefits of coaching and get the audience involved.
But don't just stand up there and waffle on about coaching and how great it is. That is not the way to inspire your audience to work with you.
I usually present using a theme related to the life skills and goal planning information in my book and, within the time frame I am given, base the presentation on three to five of the key points.

So pick a favourite coaching process or two build your presentations around them.
Include personal stories and relate experiences you have had with clients (anonymously of course) and leave the audience with some valuable tips they can use in their own lives.

6.  Audience participation will keep your audience engaged 

One of the best techniques to successfully motivate your audience  is to get the them to participate, even if it is only a show of hands in answer to a question. Or you can ask them to share with the person next to them on a particular topic.

Maybe start your presentation or workshop by telling the audience briefly what you are going to cover so you get them interested in what is to come. Tell them they can either ask questions as you go or you will take questions at the end of the presentation.

However, one of the dangers of  saying you will take questions during the presentation is that you can get off track and run out of time to get all your message across.
7. Make sure you can be heard by and hear your audience
And whilst we're on the subject of audience participation make sure you audience can hear you and when it comes to questions time you can hear them.  This may sound obvious but in a fairly big room with a largish audience this can be a problem unless there is a good public address (PA) system.  And, as I learnt the hard way, the PA systems provided by venues can be notoriously poor and unreliable - however many assurances the organisers give you.
If you are serious about using speaking as a marketing strategy, investing in a modest PA system of your own such as the Hisonic HS120B could save you a lot of annoying moments for both you and your audience.
8 . Avoid "Death by Power Point"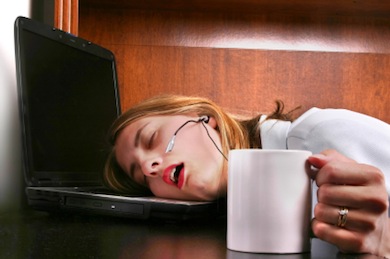 If you use PowerPoint (and personally I never have so I can't give you any tips on that☺.),  don't just stand there and read off your PowerPoint slides - that is not the way to engage and motivate your audience.
Make sure your PowerPoint presentation is used just as a prompt, an anchor or a summary and is interesting to look at with graphics or pictures rather than just words.
One of my most successful presentations was at the end of the first day of a conference, late in the afternoon, when the audience was tired and literally suffering "death by PowerPoint",  after numerous informative but boring presentations.
I had been invited to talk about networking (I had framed it up as "Networking as a Tool to Achieving Your Goals"), and had the audience up, moving, interacting and having fun.

Because I engaged the participants in activities, I got the highest speaker rating at that conference, even though my information was pretty basic and not even that much on topic. It also got me a new clients.
---
 9. Customise your presentation to the audience

When approaching a networking or business organisation you would like to speak to, try and find out what sort of subjects their members are requesting information on.
If you know what they are looking for you can frame up your proposal to match and adapt your content to suit. Let's face it many aspect of life coaching can be customised to suit almost any industry or situation.
Also, take the trouble to familiarise yourself with the profession or industry so you can drop in information that relates to your audience and shows you have done your homework about them and are not just giving a rote presentation.
Mingle! If you have the opportunity mingle and chat with the audience before you speak so you become a little familiar with who they are and where they are coming from and can even refer to them during the presentation.  I have observed many great speakers doing this.

10. Get feedback and testimonials for your presentation

Feedback is essential on your journey to become  a great motivational speaker. Ask the organizer of the speaking event to give you a written testimonial of about your presentation.   Many times the audience at an event will be given a list of questions to fill about their satisfaction with the event overall and how good they found each speaker. 
Make make sure you have an arrangement to get a copy of these as they will be invaluable as feedback on what you may need to work on and material for testimonials to help you get more engagements.
Don't be too upset if someone didn't like you - you can't please everyone - it's the overall rating that matters.

11. Get contact details of your audience
Of course you will have the contact details of the person who organised you to speak but you may also want to add the members of a networking group or community function to your mailing list so you can keep in touch
One way to do this is to offer a prize such as a book or a free session and draw the winner from business cards you have collected.  I'd do this pretty close to the beginning of your presentation so you don't forget.  After the presentation you can send out an email saying how great it was to have them as an audience and inviting them to join your mailing list/newsletter. 
And don't forget to always write and thank the organiser for inviting you.
Your Seminar Preparation Checklist - 5 Tips So It Runs Smoothly
Ask any speaker how their presentation went and, in many cases the "glitches" were not caused by their content or delivery, but by peripheral things that went wrong in the room and could have been avoided.  
The logistics of the room such as how it is set up and how handouts will be distributed will greatly affect how the audience receives you and how you profit from your speaking efforts.  Here are five seminar preparation tips that can save the day on your way to becoming a motivational speaker, and a website I found with some more useful information on seminar preparation checklists:
Have your own master checklist:  List everything you need to be provided for you or to take with you. Things like flip-charts, screens, microphones, Wifi,  products to sell, handouts, spare pens, business cards and so on. Never assume what will be provided - including parking.  Always check with the organiser. 

Confirm attendance: The day before the event confirm numbers that are expected.  Taking a few extra handouts just in case.
Do a check on how the room is set up before you present:  Arrive early so you can check on things like the position of the lectern, glare on a screen, the seating configuration.  Make sure you will be visible from all seats.  Don't be afraid to ask for things to be changed.

Have some help: If possible have someone come with you.  This person can help with the set up, find what's missing and handle any product sales so you are free to talk with people and generally be there for you.

Avoid mealtime distractions: Ask the organiser of a lunch or dinner function if they can possibly avoid you having to speak whilst the audience is eating or at least until they get to desert and coffee.  If you don't feel like eating before speaking, (I never do!) don't let the organizers dump food down in front of you the minute you finish and sit down as people will be reluctant to approach you for more information whilst you are eating.   
That's about it from me folks on how as a life coach you can become a motivational speaker.  I'm sure there's more so please add your experiences, ideas and comments using the form below. And here are some more creative and affordable marketing ideas for life coaches for you to consider.