Mastering the Coaching Discovery Session
In this compact little book, you can preview some of the content below, I outline how I developed my successful coaching Discovery Session process, through trial and error over 20 years. You can now take advantage of my experience (for the cost of a coffee and muffin😀) and remove the guesswork out of assessing and engaging the prospect as a quality paying client.

Why I created Mastering the Coaching Discovery Session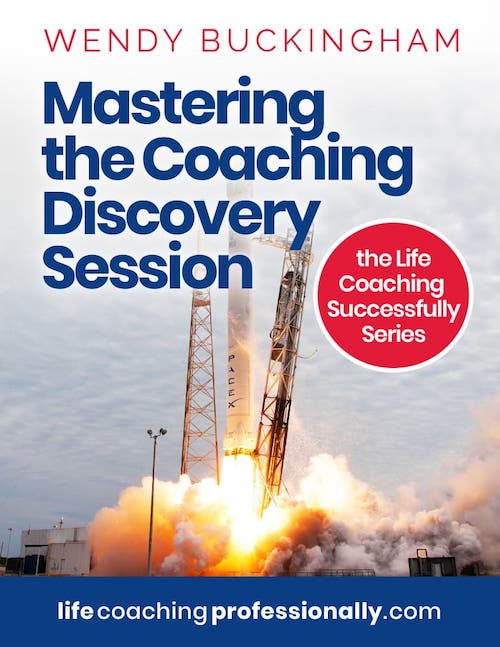 It's one thing to be a skilled coach, quite another to master the enrolment process for getting new, committed clients. 
When I was first coaching, I used to give away hours of time by offering an hour long free session to prospects with the aim of enrolling them as paid clients. I'd coach my heart out to show them how good I was and how I could help them.
Sometimes they'd become committed clients. Other times, they would thank me and I'd never hear from them again.
Reasons for not becoming clients included:

There had to be a better way!  I discovered that the best option was to offer a free assessment or "Discovery Session" rather than a "Free Trial Session" (yes there is a difference). 
Now, with Mastering the Coaching Discovery Session I am passing on to you my process to save time, and make sure your prospective clients are a good coaching "fit", by asking the right questions both before and during the Discovery Session. 
All the help you need to convert coaching prospects into committed clients
In Mastering the Coaching Discovery Session, I'll take you through:
The purpose of the Discovery Session.
How to set up a Session (including 7 pre-session questions).
Conducting a successful Discovery Session (including more vital questions and useful hints).
"I enjoyed reading Mastering The Discovery Session and will definitely use some of the tips. It flows well and is to the point. I found the exercises, and examples really useful. I am sure it will be of benefit to all coaches who read it in helping them refine their enrolment process."
Sigi Arnejo, Life Coach, San Francisco.
"This book on a discovery call was very helpful and easy to implement. I've got new clients since I followed the steps." Tope Keku, Life Coach USA

Click image for a sneak peek at what's inside...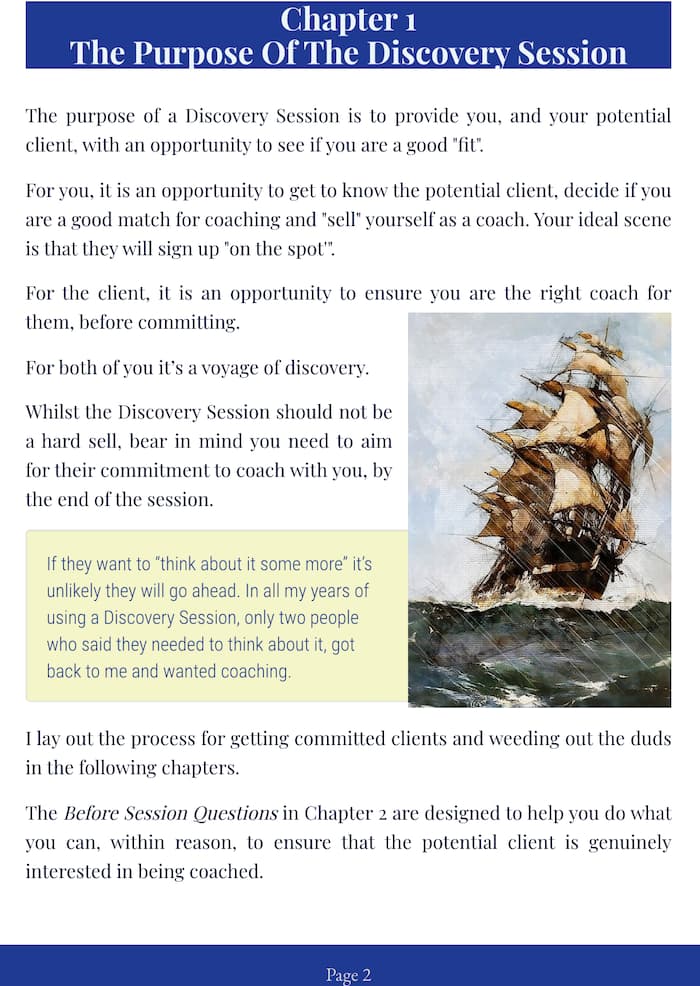 Click image to read
Wendy's Mastering The Discovery Session For Coaches is a practical guidance for this crucial step in any coaching relationship. She shares the essentials for success including a checklist, success hints and ready-for-use examples to help you drastically improve your first exchanges with a potential client." 
François Bachmann, Coach and Facilitator, Switzerland.
This book is about clarifying the purpose of the Discovery Session, how to set it up and effectively use it to get committed, paying clients.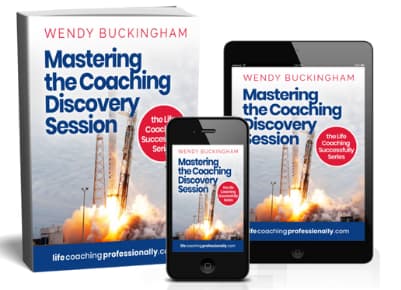 100% Satisfaction or Your Money Back
I am sure you will get real value from this book. However, if within 30 days of purchase you are not 100% completely satisfied, you will receive. 100% refund, no questions asked.
More help for growing your skills and promoting yourself?
I have written three other informative books (again from my own experience) that will help you to authentically attract new quality clients, increase your coaching skills and  promote your coaching services.