7 Business Card Ideas That Will "Work"
For Professional Life Coaches

Seven creative and cool business card ideas will make sure your business card really does the job of marketing your life  coaching.

Even in these days of social media contact, one of the most basic yet most important tool in marketing your skills as a life or business coach is a business card you can hand out. 

So the trick is to make sure your business card is an engaging promotional tool to grab attention and make your card the one to keep. 
It should make you memorable to the people you connect with at networking functions, a party, or even on the train or plane or in the gym or supermarket.
These seven tips will get you on the right track to having a business card that is really worth more than the paper it is written on.  
1. Say what you actually do for your clients?

 This may seem obvious but so many times I've had a card handed to me that doesn't do this and later I'm left wondering. As well as giving your name and contact details, your business card should actually say what you do and the benefit of working with you.
If you're  stuck for a few words to powerfully get your message across, here's where you can learn more about creating a fabulous and effective  marketing message  that can be adapted for your business card.
For instance Mary Jane, Life Coach – is pretty lifeless, but add "I help you get from where you are to where you want to be" or something about your specialty or niche and maybe listing the services you offer, adds a different and engaging dimension for the person reading the card.

2. Make yourself memorable

Make yourself memorable The best way to do this is by incorporating a photo into your life coaching business card. Now I know many people don't like this idea, but for something as personal as life coaching I think it has a distinct advantage. But please try and use a photo that reflects how you look now, not 20 years ago! 
Also handing out a grubby dog-eared card is not good look, so invest in a business card holder to keep your cards looking fresh and also to pop in any cards you might collect.  I used to use one pocked of a jacket to hand out my cards and the other to put other people's cards in but a card holder is much better. You'll find Amazon has a huge selection of cool and colourful business card holders. I love this classy leather one which comes in lots of colours but there are loads of others to choose from. 
3.  Make sure your information is readable

This is one of the things you have to be aware of if using a graphic designer.  They may come up with a fabulous, unique business cards, but the colours and text on those colours may render it difficult to read and almost useless as a marketing tool. Invariably when I've been handed such a card, I've discovered it has been designed by a professional. So sure, use a graphic designer by all means, but keep this point in mind when you are approving the card.  Is it easy to read?

4. Leave some space for notes

If the person you are giving your card to is a good networker or interested in what you are offering, then they may want to make a note on the card to remind them of any conversation you had or any follow up action they need to take. Make sure there is space to do this somewhere on the card. 
Also choose a card stock that has a surface that will accept a writing easily. A card with a glossy front but a mat back can work well for this.
5. More business card ideas to make your card stand out from the crowd

 You could choose a vertical design or cards that are not standard business card size or with an unusual shape such as square, round or even folded.
You might also want to consider a magnet business card with an inspirational message. I still have one on my fridge that says "Expect a Miracle". Only trouble is the coach didn't include his or her name or website, so I haven't a clue now who or where it came from (get the picture!?).
But don't get too clever with this - your card needs to have contact details that are legible and be sized to easily fit into a standard business card folder so the person you give it to can keep it neatly and undamaged. 

6. Postcards and bookmarks are for keeps

Some of the most innovative business card ideas are not actually cards, though they have the same marketing function. You could try a book-mark, or a postcard with added value to the receiver.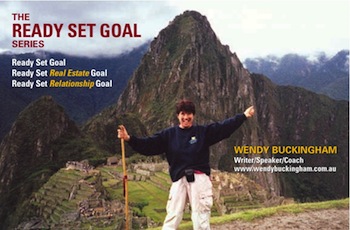 When I was marketing the original version of my book, Ready Set Goal!  I developed a postcard  (pictured) with my photo, branding and contact details on the front and some tips on goal planning on the back. 

It was a really effective business card idea and I found more effective marketing strategy than a standard card.  I still come across people who remember me from the card and have kept it.
As well as promoting my book (now superseded by Be Your Own Goals Coach) I found people were far more likely to keep a postcard.
7. Design your own business cards:

 When it comes to business card design, there are two options - use a graphic designer and get them printed, or design them yourself.
I've been down both paths and these days I find the most economical and flexible way to go is with one of the companies that let you design your business cards on line and print and deliver them within a few days.

Among the many discount business cards on offer I use Vista Print Business Cards, I found their system very affordable and really easy to use to design my own cards and their delivery service reliable. There are samples for various industries with a good choice of stocks and finishes and the option to customise and upload my photo.
So there you have it, seven business card ideas.  I hope one of them at least has got you thinking.