9 Clever Life Coaching Business Card Ideas To Attract Clients
Page Summary
Check out these nine creative and practical life coach business card ideas that will make sure your card really does the job of attracting to work with you. 

Quick Links
Why Invest In A Life Coaching Business Card?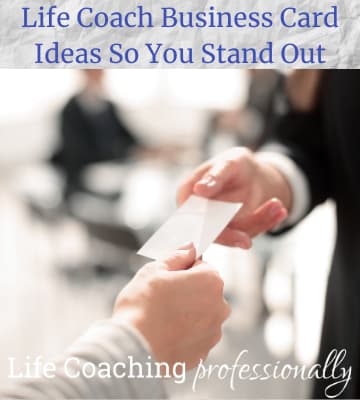 One of the most basic, yet most important tools in marketing your skills as a life coach, whatever your niche or specialty, is a business card you can physically hand out. Yes - even in these days of social media contacts and online activity.
A business card will make you memorable to the people you connect with at networking functions, a party, on public transport, a plane (CV19 permitting) or in the gym or supermarket.
The key is to make sure your life coaching business card is an engaging promotional tool to grab attention and make your card the one to keep. 

Read on for nine creative business card ideas to make sure your card really "works" for you as a promotional tool.
These nine tips will get you on the right track to having a business card that is really worth more than the card it is written on in growing your practice.  

9 Business Card Ideas For Life Coaches To Make You Memorable
1. Say what you do for your clients

This may seem obvious but so many times I've had a card handed to me that doesn't do this and later I'm left wondering and trying to remember who the person was and what they were about. 
As well as giving your name and contact details, your business card should say what you do as a coach. You could include a point form list and some of the benefits of working with you.
For instance Mary Jane, Life Coach – is pretty lifeless.
Add something like:
"I help you get from where you are to where you want to be".
Or include something about your specialty or niche.
You can also list the services you offer such as group coaching or workshops.
These extra details create a memorable and engaging dimension for the person reading the card that they may relate to and want to know more.
2. Use your business card to make yourself memorable

One of the best way to do this is by incorporating a photo into your business card. Now, I know many people don't like this idea but for something as personal as life coaching, I think it has a distinct advantage to let people see who you are.
But please try and use a photo that reflects how you look now, not 20 years ago!
3, Hand your business cards out with style..
Handing out a grubby dog-eared card is not good look, so I'd recommend investing in a business card holder to keep your cards looking fresh. When I started networking I used one pocket of my jacket to hand out my cards and one other for  cards I had collected. However I soon found it was worth investing in a proper card holder as a more professional look for handing out my own cards.
You'll find Amazon has a huge selection of cool and colourful business card holders
4.  Make sure your typeface is readable

This is one of the things you have to be aware of if you are using a graphic designer. They may come up with a fabulous, unique business cards, but the background colour, size or text and text colour may make your information difficult to read. This makes the card almost useless as a marketing tool.
When I've been handed such a card, I've often discovered it has been designed by a professional graphic designer. So sure, use a graphic designer by all means, but keep this point in mind when you are commissioning and approving the card.
Constantly ask yourself: Is it easy to read? Does it get my message across as well as looking good?

5. Leave some space on the card for notes

If the person you are giving your card to is a good networker or interested in what you are offering, they may want to make a note on the card to remind them of any conversation you've had or any follow up action they want to take. Make sure there is space to do this somewhere on the card.
Also, choose a card stock that has a surface that will accept a writing easily. A card with a glossy front but a matt back will work better than one that is glossy on both sides.
6. Ways to make your business card stand out from the crowd

Choose a vertical design or cards that are not standard business card size. Business cards with an unusual shape such as square, round or even folded are also eye-catching because they are creatively different.
You might also want to consider a magnet business card with an inspirational message. I still have one says "Expect a Miracle". The only trouble is, the coach, or whoever, didn't include his or her name or any useful information about them, so I haven't a clue now who  gave it to me! Get the picture!?
Don't get too clever with this.
Your card needs to have contact details that are legible and be sized to easily fit into a standard business card folder so the person you give it to, can keep it neat and undamaged. 
7. Life coach business card examples - with a difference. 

I've seen some great examples of life coach business cards that  are not actually cards, though they have the same marketing function. You could try something that give added value such a book-mark, fridge magnet or a postcard.

When I was marketing my first book Ready Set Goal!, I developed a postcard (pictured) with my photo, branding and contact details on the front and 10 tips on goal planning on the back.
It was a really different business card idea and worked as an effective marketing tool in addition to my standard card. I would hand it out at presentations I gave and I often came across people who had kept the card and remembered me many years later.
8. Design your own business cards:

When it comes to business card design, there are two options - use a graphic designer and get them printed, or design them yourself.
I've been down both paths and these days I find the most economical and flexible way to go is with one of the companies that let you design your business cards on line and print and deliver them within a few days.
Among the many discount business card suppliers on offer I use Vista Print Business Cards. I found their system very affordable and really easy to use to design my own cards. There are samples for various industries with a good choice of stocks and finishes and the option to customise and upload my photo.
9. Don't Forget Online Life Coaching Cards
You can, of course, reproduce your actual physical business card online. But as this is usually two-sided, this may be a bit cumbersome.
Much better to create your email signature or your introduction paragraph on Facebook or LinkedIn to do the job of a business card. Make sure it includes that essential information of who you are and what you do and anything else that is relevant and you have room for. 
Particularly on Facebook, I often notice the absence of this intro/business card that is so important as a promotion of who you are as a coach.
The other thing to remember is that your website is also a form of an online business card, so make sure it also does you justice as a marketing tool. 
So there you have it; nine ideas for life coaching business cards that will make you stand  and keep you memorable.  
Click the image to explore and purchase my eBooks

Books by Wendy Buckingham