How To Fire A Client From Life Coaching
Page Summary
Sometimes, for whatever reason, a client turns out to be uncoachable or you realise you are simply not a good match for them. They drain your energy and confidence and you just want out. This page shows you how to fire a client nicely and with the minimum of stress.

 Three Reasons To Fire A Client From Your Coaching
Have you ever found you just want to drop a paying coaching client? 

It's a sad fact that no matter how positive and motivated you are, or experienced, sometimes the life coaching is simply not working out and you can end up demoralised and exhausted.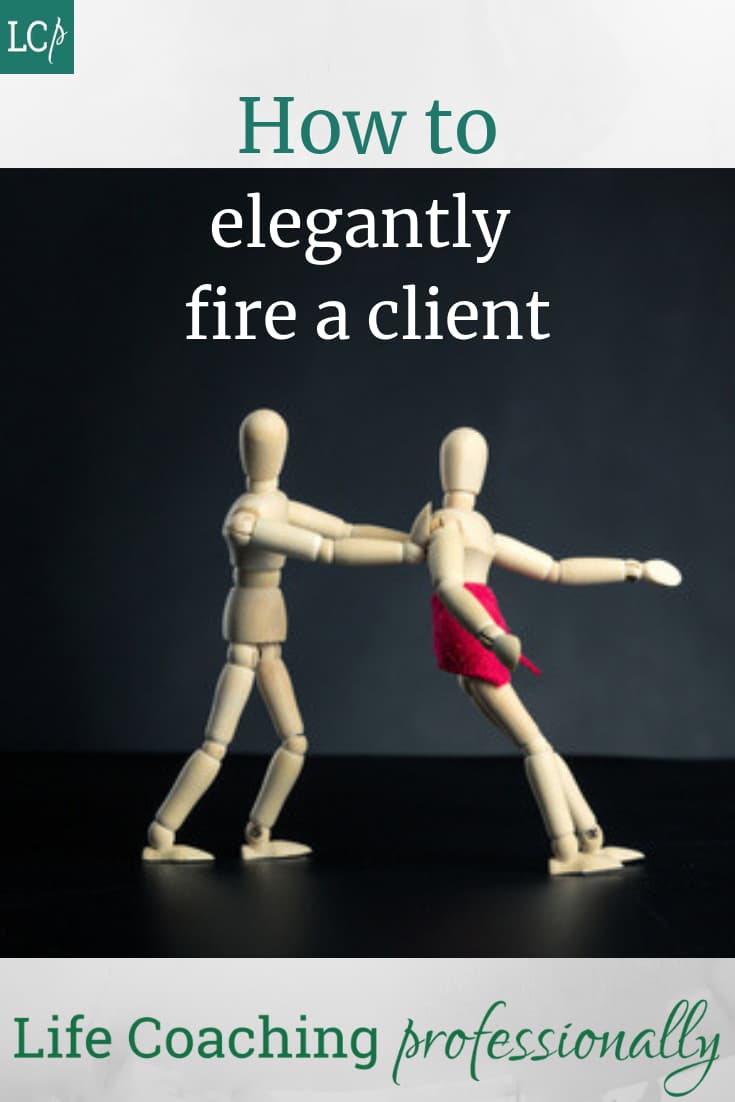 Despite your initial confidence that you were a good match, these clients turn out to be uncoachable (at least by you at this time). You come to dread session time with them just want out.

There can be many reasons for the coaching not working from, the toxic client to the simply uncoachable, but the problem is you don't know how to end the coaching relationship with them cleanly and nicely.
I've found these three reasons to fire a client to be the most common and shared a couple of my own experiences and learnings in the case studies at end of this article.

1. They need therapy rather than life coaching
The client may be really keen to keep on working with you but their issues start getting into deeper waters - therapy issues such as a past trauma, addictions, severe depression. You know you simply are not confident or qualified enough to help them and they need a therapist.  
As a coach you have to be really aware of your responsibility in not trying to coach a client who obviously needs therapy support you are not able or qualified to give. It's time to refere them on to someone who is.
2. They are not willing to experiment with new behaviours or strategies
Although they can admit that the way they are handling an issue is not working, they simply are not able or willing to look at their own issues and behaviour and try something new.
You question, lead and suggest until you are blue in the face, but they don't or won't  look at a different strategy or behaviour that might work to solve the problem. Asking them "what do you think the solution to this?" which often works, also doesn't get you anywhere.
This client seems to expect you to pull a rabbit out of the hat to solve the issue without their having to do much themselves. 

3. They've been "sent" for life coaching
Another reason you may want to fire a client is that they have been "sent" for coaching by a family member or employer so it's not their own idea and they are not enrolled or committed.  Rather than being self-motivated, they are "other" motivated and that rarely works.
They may even be resentful and combative and determined to give you a hard time. If you can't enrol them in the benefit of the coaching you may have to have a conversation with the person who instigated the client working with you.
Where the actual client is not paying for coaching themselves, a conversation with their sponsor may be necessary whether a family member or employer.  
How To Fire A Life Coaching Client Nicely
Here are three possible approaches for what you can say to fire a life coaching client. Each depends on the reason you want to end the coaching relationship. And it may be that they are coachable, but you feel you are not the right person to work with them.

1.  "I would really love to go on with our coaching but I've decided I wouldn't be doing you justice or giving you the best value. I find the issues you are facing are more of a therapy/consultancy issue than I am qualified/able to handle." 
And then you recommend them to a suitable person you have established a connection with such as a psychologist, relationship counsellor or even a business consultant. 
2. "I've realised I'm not the best coach for you on these issues. What I'd like to do is recommend you to a colleague of mine who may be better suited." 
If the client has been particularly trying, let your colleague know what your experience has been.

3. "I really don't think I can help you further so let's have a break from coaching whilst you put into action some of the things we have discussed."
You can almost guarantee they won't come back. 
In my coaching I have a clear refund policy. However, if the client appeared to be put out or resentful and even several sessions has been had, regardless of this, I offered either a full or partial refund. 
I believe it's much better to lose a few dollars than the goodwill of a client who may talk negatively to others about you. 
Some Case Studies On Ending A Coaching Relationship
Fortunately, there haven't been many times I've needed to find a way to end a coaching relationship but they made a lasting impression and were big lessons to go forward from. In these two case studies I learned to nicely drop a client who was toxic and the client who was actually a fraud came to be coached under false pretences.
The toxic client 

When I was ending up almost in tears at the end of a phone session and dreading the next one, I knew something had to be done. This toxic client had told me at the beginning that he had had several coaches who couldn't help him. That alone should have been a warning flag but my ego told me I could be the successful one.   
He was not willing to do anything but put down what I offered in the way of coaching but weirdly wanted to continue working with me.  Definitely uncoachable and pretty toxic too.  
At the start of his next session I told him that before we talked any more that I would like him to do some of the processes I had recommended to see if they could work despite his doubts and then get back to me.
He never did!
My lesson here was to ask prospective clients the question "Have you been coached before? and if they said yes "How was that?" 
Balance & Self-Care Toolkit

As well as being a bit blown out yourself by a toxic or uncoachable client and needing to find calm and balance again, you may need to coach a client through a similar issue they are experiencing. .
The Coaching Tools Company has a brilliant Balance and Self Care Toolkit that could be useful to invest in as a resource.
There are nine tools including
Detoxing a relationship
Self-care check-in
Self-care quiz,
Letting go exercise
Identifying energy zappers
And much more....
All the tools are brandable to your own coaching business. See details of all nine Balance and Self-Care Tools here.  Some of them may be available as a single purchase as well as in the kit.
The fraud who asking for life coaching under false pretences
This was in my early coaching days, before I developed my initial questions for prospective clients about what they wanted to get from coaching.
The client was a phycologist and presented really well (and I was flattered that another professional would want to work with me). But when it came to coaching her, there was just something not right. She was asking lots of questions but just wasn't engaged or doing anything between sessions and really vague about setting any goals or outcomes.
When I confronted her about this at our third and last booked session, she admitted she didn't actually want coaching. She had heard about it and wanted to find out how it worked to see if she could do it for her clients.
Needless to say I suggested (nicely) she enrol in a coach training program rather than hire a coach unless she was be willing to actually be coached! I did not offer a refund.
My lesson here was to insist my pre-Discovery Questions they be answered. 
Of course I hope you never have to consider firing a client, but if you do, I hope the information, suggestions and my lessons will have helped you do it without a lot of stress.
Click the image to explore and purchase my eBooks

Books by Wendy Buckingham