18 Life Coaching Questions For New Clients
Page Summary
Try using these 18 life coaching questions as part of your intake process. These questions or similar,  will save lots of getting to know you conversations and give you (and your clients) valuable insight and a powerful beginning to the coaching journey. 

Quick Links
G
et Your Coaching Off To A Flying Start With These Powerful Intake Questions
I find that asking new clients to answer the following intake questions as part of my Welcome Pack and before the first session, a fabulous way of getting a snapshot of where they are in their life. It also helps understand their personality and what makes them tick.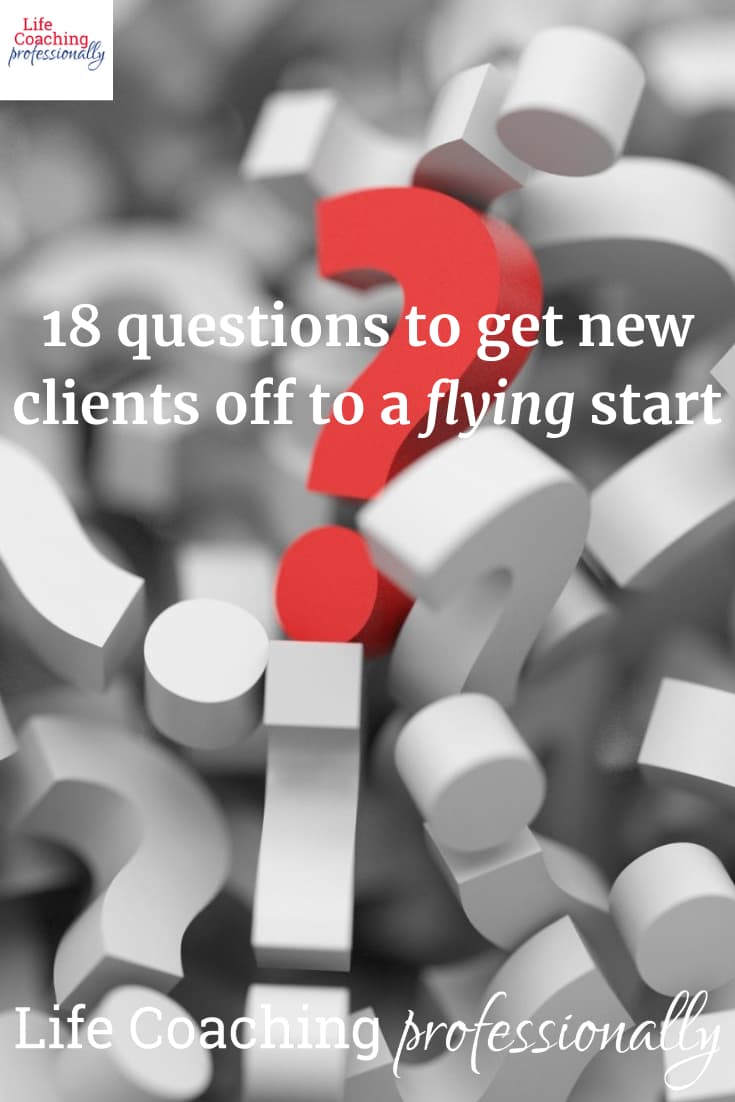 As you will see from my suggestions on how to introduce coaching intake questions, further down this page, you may need to engage the new client in the benefit of this process.

The feedback I've had is that answering these questions was really valuable in helping them get clarity on where they are and where they want to go with coaching to compliment what may have discussed during their Discovery Session. 

Of course you don't have to stick exactly to the life coaching questions I've suggested, or use them all, so feel free to add your own version which might be relevant to your coaching niche or speciality. However, I've found the answers to these questions provide a great starting point for getting to know more deeply what issues may need to be addressed and where your new clients' pain points may actually be.
If you think of any I might want to add, do contact me via my contact Wendy form.
Life Coaching Questions To Ask New Clients
Energy and passion:
Where do you get your energy – what motivates and turns you on? What are your passionate about?

Emotion:
What moves you to tears of joy/sorrow?

Pleasure:
How do you like to enjoy yourself? What do you enjoy doing?

Stress release:
What do you find works for you to make you feel better when you are experiencing stress?

Responsibility:
Where are you likely to be most irresponsible?

Control:
What emotion (anger, fear, anxiety, etc) may make you feel most out of control?

Sabotage:
How might you sabotage your coaching progress and our professional relationship?

Results:
How will you know how effective our coaching has been? 

Feedback: 
Are you willing to tell me if you feel our coaching needs to go in a different direction or give me any other honest feedback. 
Coaching preference:
How can I best coach you? For instance, do you like lots of structure or things done informally or a mix of both?
Goals:
Do you understand that I will support YOU, not just your goals?

Values:
What are your values – the things in life that are really important to you? If you are not sure of this we will find out as part of the coaching process.

Business/career opportunities:
What business/career opportunities you are currently not making the most/anything of?
Personal Aspirations:
What are three personal desires you are currently not pursuing?

Poor relationships:
Is there anyone in your life who is constantly putting you down, making you feel inadequate or whom you feel you have to tread carefully around?

Challenges:
What is the biggest challenge you have in your life right now?

Priority:
What is your most urgent problem?

Regrets: (optional question)
What are the biggest regret you have in your life:
Personal; Career/Business
The Power of an engaging welcome pack
This professionally presented Welcome Pack for clients put together by The Coaching Tools Company can save you loads of time in working out an agreement, invoicing, creating a review and feedback form and much more.

Get the complete list of 16 Coaching Tools, Forms and Exercises included in this set of Welcome Pack Templates by clicking this link or at the end of the accompanying video.
How to introduce these coaching intake questions to your client
A key part of establishing rapport with your new client is how you present your introductory material after they have committed to working with you. I used to send a Welcome To Coaching email and include my coaching intake questions, the coaching agreement, my invoice and any processes that were appropriate to the client including my 17 questions.  

To avoid any resistance from the client in being asked to answer these life coaching questions even before their first session, it's important you explain to them benefits. To help with this I have written below an introduction which you can adapt to your own style. You can add any changes you need, so they apply to your particular specialty or niche or your new client's situation. 
Here's a suggestion pf what you could say to your new client when asking them to complete the questions: (I wrote it as an introduction to the coaching questions)

"I'd like you to reflect on the following questions about yourself and our coaching. They will really help our coaching to get off to a powerful start.
Answer the best you can. Even if you find some of these thought-provoking questions challenging, try and answer them anyway.
The answers will allow me to get to quickly know you better and enable me to coach you more powerfully. The answers may also give you some great insights you hadn't realised.
There are no rights or wrongs. Your answers to can be as long or short as you like. The purpose is to give us an overview of where you are at in your life/business/profession and to get you thinking forward."
When to send the intake questionnaire?
You can send out the life coaching questions with your "welcome as a client" email or letter. 
Ask the client to return the completed questionnaire before their first official session. When you are talking to them at the wrap up of the successful Discovery Session when you set the date of the first formal session, let them know you are sending the questions and get their commitment to send them back before the first session.
I suggest you send this to the client as a Word (or similar) document and ask them to save the document and type in their answers under each question. Then they can email the answers back to you. 
I find Microsoft Word (or a similar editable program) is better than using a PDF because it makes the process easier for them to answer, directly under the questions without the need for printing out.  Or you may prefer to use one of the Google Forms to create your questionnaire. 
Click the image to explore and purchase my eBooks

Books by Wendy Buckingham